Image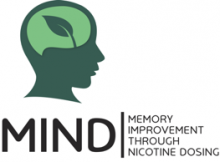 The Memory Improvement Through Nicotine Dosing (MIND) study currently being conducted by local researchers at the Wisconsin ADRC is testing whether nicotine in patch form is effective in improving memory and functioning in adults diagnosed with MCI.
Currently, there is no FDA-approved treatment to alleviate MCI symptoms or to prevent progression to Alzheimer's disease. However, since nicotine stimulates an area in the brain known to be important for thinking and memory, scientists believe it can be an effective treatment for adults with MCI.
This study seeks to determine if nicotine can improve attention and memory over a sustained period of time in older adults with MCI. MIND is seeking healthy, non-smoking adults, age 55+ who have noticed changes in their memory or whose family members have noticed changes. Those who meet the study qualifications will be placed on either daily nicotine or placebo patches.
Senior Research Specialist