Image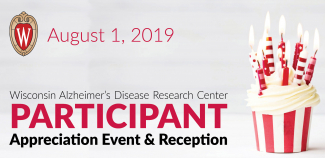 5:30 pm - 7:30 pm
UW School of Nursing, Signe Skott Cooper Hall
701 Highland Ave.
Madison WI, 53705
This event is by invitation only for Wisconsin ADRC Clinical Core Participants and their guests.
Join center investigators and staff to commemorate 10 years of research at the Wisconsin Alzheimer's Disease Research Center. Let us thank you for your participation in our program over the last decade. The program will include talks on the following topics:
Research Accomplishments from the Last Decade
The Importance of Brain Donation
Neighborhoods and Alzheimer's Disease Study
RSVP by July 24, 2019
There are three ways to RSVP:
Parking and Transportation
Free parking is available after 4:30 p.m. in campus Lot 60, located at 801 Walnut St., and a short walk from the event center. A shuttle will run between Lot 60 and the event center. View a PDF of an Appreciation Event Map for parking directions and event location.