2021-2023 REC Scholars
Image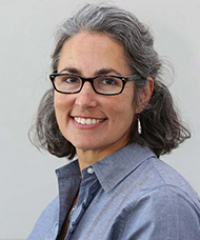 Anita Bhattacharyya, PhD
Dr. Bhattacharyya is junior faculty and a basic science researcher in the Department of Cell and Regenerative Biology. Her research project is "Investigating the role of APP in human Down syndrome neurons."
Image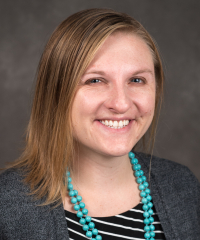 Lindsay Clark, PhD
Dr. Clark is junior faculty and a clinical researcher in the Department of Medicine. Her research project is "Validating teleneuropsychology for earlier dementia diagnosis."
Image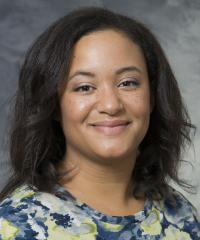 Andrea Gilmore-Bykovskyi, PhD, RN
Dr. Gilmore-Bykovskyi is an assistant professor in the School of Nursing. Her career goal is to develop a clinical research program focused on improving Alzheimer's disease diagnosis as well as access to care and treatments, especially for high-risk and disadvantaged populations.
Image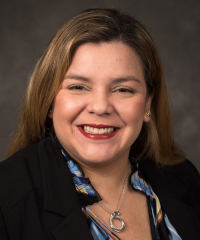 Maria Mora Pinzon, MD, MS
Dr. Pinzon is a physician-scientist and fellow with the Wisconsin Alzheimer's Institute. Her project is "Increasing Latinx participation in ADRD through a Community-Based Approach."
Program and Application details
The Wisconsin ADRC Research Education Component (REC) Scholar Program supports exceptional junior investigators at UW–Madison in their development into independent Alzheimer's disease (AD) researchers. This program is intended to support AD training for individual researchers and to facilitate development of skills in basic, clinical and translational research.
The program will include: 
Training in core research competencies and the ADRC core content areas necessary for success as an independent scientist (see Figure 1 below)
Training in basic, clinical and translational research concepts necessary for furthering innovative research on AD
Mentorship to advance research independence
$80,000 over two years to support direct costs for a research project
This program does not provide salary support. Applicants will need to demonstrate that they have protected time to carry out their project and engage in training.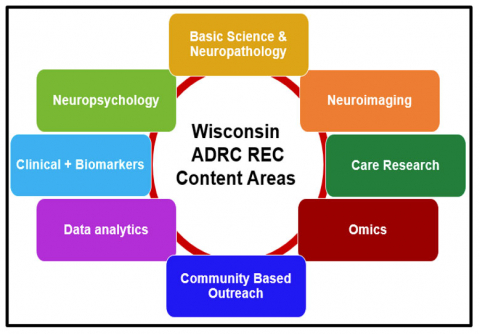 Availability
The REC Scholar Program offers a 2-year appointment and can accommodate up to three junior faculty or postdoctoral fellows at a time. A third year in the program may be available for those REC Scholars demonstrating need and suitable progress.
Eligibility Requirements
Applicants must: 
Be junior faculty or advanced postdoctoral level, early stage investigators
Have an appointment at UW–Madison
Must have a minimum of 20% protected research time to carry out project
Have research aims that can be connected to or benefit AD research and align with the National Alzheimer's Project Act
Have published works, contributions to science, positions and honors
In addition:
Applicants who have an NIH career award or similar are preferred, but this is not required.
Applicants may have an NIH R01 grant (or similar) application under review at the time of their application. However, applicants who hold an R01 or similar award are not eligible.
REC support is intended primarily for U.S. citizens and permanent residents, unless there is strong justification otherwise based on exceptional relevance to the NIH and NIA.
Scholar Expectations and Program Benefits
The REC Scholar Program will support the development of research skills and a deeper understanding of AD and related dementias. Scholars will gain knowledge in AD research through didactics, interaction with other scholars and faculty in the Wisconsin ADRC and nationally, and carrying out their own research projects. By creating a cohort of REC Scholars who learn new skills together and providing opportunities for networking, we expect benefits that last past completion of this program, including that REC Scholars become peer mentors and collaborate in future studies. By participating in a variety of seminar series and workshops, we also expect that REC Scholars will integrate with other AD researchers from across campus and nationally and will develop research collaborations that draw others into AD research.
REC Scholars are required to develop proficiency in research competencies and ADRC core competencies (see Figure 1 above). To accomplish this goal, scholars will be required to participate in:
Mentor and Career Coaching

Scholars will:

Meet regularly with their mentors
Create an individualized development plan (IDP)
Present progress reports at meetings with mentors, program leadership and department chairs

Mentored Research Scholars Seminar Series/UW Institute for Clinical and Translational Research (ICTR) (monthly)

This provides junior researchers with training in the core competencies of research. Participation is required.

Additional Training

Additional training will be based on an entrance evaluation of research competencies using the NIH proficiency scale. Supplemental training needs will be based on the REC Scholar's career goals and determined by the scholar and their mentors. Proficiency in these research competencies will be achieved through a blend of self-directed modules, seminars, workshops and experiential activities.

Data Presentation

REC Scholars will present at one Wisconsin ADRC seminar series and/or the Wisconsin Alzheimer's Disease Research Day
Scholars will attend at least one national ADC meeting during their two-year cycle

Research Responsibilities

It is the responsibility of the applicant to obtain all relevant approvals (e.g., IRB) at the time of application
Awardees must include a project progress report in the Wisconsin ADRC's annual NIH RPPR (typically due by early January for both years of the funding cycle)
Selection Process
Applications will be evaluated on the following criteria: 
Quality of the proposed scientific investigation and its significance for the field of Alzheimer's disease research
Need for training in Alzheimer's disease research
Quality of proposed training plan and mentors
Overall impact and public health significance
Potential of the proposal to attract future NIH and other grant funding
Qualifications and background of the applicant
Vetted by the REC advisory panel to determine readiness to lead a research project and meet aims of the program
How to Apply
The 2023-2025 REC Scholars Program application process will open in Fall 2022.
Please direct questions to Sheryl Spensley.