Image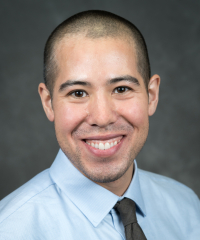 Dr. Nathaniel Chin is host of Dementia Matters. He is a geriatrician, memory clinic doctor, and medical director for the Wisconsin Alzheimer's Disease Research Center. His father's diagnosis with early onset Alzheimer's disease inspired him to pursue a career as a geriatrician and scientist focused on dementia prevention, especially in regard to Alzheimer's disease.
Dementia Matters is a podcast from the Wisconsin Alzheimer's Disease Research Center. Host Dr. Nathaniel Chin interviews research and caregiving experts and brings listeners the latest Alzheimer's disease headlines, research news, and caregiver resources.
Three Ways to Listen
You can listen to episodes through our website, or subscribe to Dementia Matters through ApplePodcasts, Spotify, Podbean, or Stitcher. If you're in Madison, Wisconsin, listen to Dementia Matters on radio station 102.9 WMUU-LP, Fridays at 4:00 p.m., or stream online.
Contact Us
Email your questions and episode suggestions to dementiamatters@medicine.wisc.edu.
Audio Editor: Caoilfhinn Rauwerdink
Producer: Rebecca Wasieleski