Image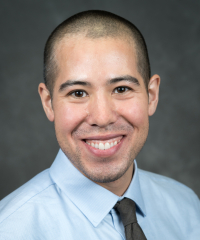 Dr. Nathaniel Chin is host of Dementia Matters. He is a geriatrician, memory clinic doctor, and medical director for the Wisconsin Alzheimer's Disease Research Center. His father's diagnosis with early onset Alzheimer's disease inspired him to pursue a career as a geriatrician and scientist focused on dementia prevention, especially in regard to Alzheimer's disease.
Dementia Matters is a podcast about Alzheimer's disease and other causes of dementia. Host Dr. Nathaniel Chin interviews leading scientists and caregiving experts to bring listeners the latest in Alzheimer's disease news, research and caregiver resources.
Three Ways to Listen
You can listen to episodes through our website or subscribe to Dementia Matters through ApplePodcasts, Spotify, Podbean or wherever you get your podcasts. You can hear Dementia Matters on Fridays at 4 p.m. (CT) and again at 10 p.m. (CT) during the "Science Friday" segment on WMUU Radio, 102.9 FM in Madison, and streaming online.
Contact Us
Email your questions and episode suggestions to dementiamatters@medicine.wisc.edu.
Audio Editors: Haoming Meng and Taylor Eberhardt
Producers: Amy Lambright Murphy and Caoilfhinn Rauwerdink
Like what you're hearing and learning? Make an impact when you make a gift to the UW Initiative to End Alzheimer's.