Image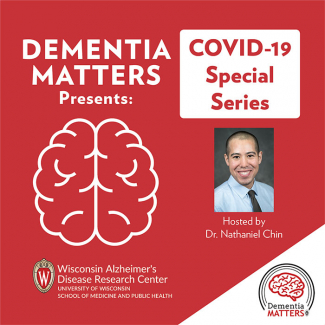 In response to the COVID-19 pandemic, Dementia Matters adjusted its focus for an eight-week special series that addressed important issues affecting those with cognitive impairment, caregivers, and the community at large.
You can listen to the episodes through the embedded players below, or find the episodes wherever you get your podcasts, including ApplePodcasts, Spotify, Podbean, Stitcher, or Google Play Music. You can also listen to the episodes in this series on YouTube or through the Dementia Matters webpage.
Contact
Email your questions and episode suggestions to dementiamatters@medicine.wisc.edu.
Audio Editor: Bashir Aden
Producer: Rebecca Wasieleski
COVID-19 Special Series Producer: Bonnie Nuttkinson