Image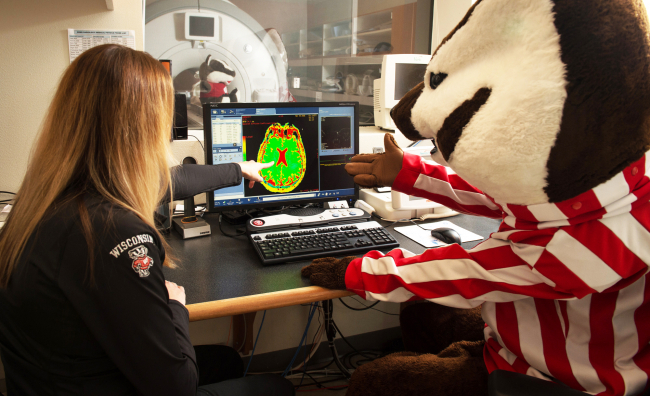 One of the missions of the Wisconsin ADRC is to help further scientific research in Alzheimer's disease and related disorders. To that effect, we make our data available to investigators who are approved through our electronic Resource Request Application. Visit our Apply for Resources page for application information.
In addition, Wisconsin ADRC offers a variety of researcher services available through the respective service leaders.
Explore this list below to learn more about Wisconsin ADRC Researcher Services and Resources, or download a PDF summarizing our resources and services for researchers.
Genotyping Service
Consultation: The Genotyping Service can consult with investigators on selecting genotype analyses for particular research projects.
Genotyping:The Neuropathology and Biomarkers Cores' (Core D) Genotyping Service can customize genotyping to any genetic loci, and is experienced in performing genotying for the determination of single nucleotide polymorphisms (SNPs) and genetic repeats in several disease-related genes, including:
Apolipoprotein E (exonic and promoter regions)
Clusterin (apolipoprotein J)
TOMM40
Androgen receptor
For more information contact, Craig Atwood, PhD.
Data Collection, Statistical, and Epidemiological Services
Investigators can seek consultation and/or collaboration from the Data Management and Biostastisitics Core's (Core C) Data Collection, Statistical and Epidemiological Service regarding study initiation and data analysis.
Study initiation services:
Study design
Sample size estimates and power calculation
Data collection planning
Data analysis services:
Clinical trials
Observational studies
Requests for statistical collaboration via investigators in Core C should be directed to both Rick Chappell, PhD, and Yue Ma, PhD. Please give your name, the name of the project's PI, its title and a brief summary, whether it currently has any grant support, whether one of the goals of collaboration is to apply for a grant, and your contact information.
Neuropsychological Evaluation Service
For studies involving collection of cognitive data, the Clinical Core's (Core B) Neuropsychology Service can provide the following support:
Study Consultation Services:
Designing a cognitive assessment battery
Summarizing and interpreting neuropsychological data
Psychometrician Service:
Data collection by Wisconsin ADRC staff
Training research staff
For more information, contact Carey Gleason, PhD.
Cerebrospinal Fluid (CSF) Collection Service
The Wisconsin ADRC CSF Collection Service follows a state-of-the-art protocol for specimen collection. This protocol was developed through collaborations with leading scientists in the field of CSF biomarker research. The Clinical Core's (Core B) CSF Collection Service can assist investigators in several ways:
Study consultation services:
Designing collection and storage methods
Selecting CSF biomarker outcomes
Collection service:
Sample collection by Wisconsin ADRC faculty
Training study personnel on collection procedures
For more information, contact Cynthia Carlsson, MD, MS.
Neuroimaging Service
Investigators examining neuroimaging outcomes in patients with AD and MCI, as well as preclinical and at-risk populations, can obtain assistance from Core D's Neuroimaging Service:
Consultation:
MRI protocol
Scan parameters
Selecting most appropriate scans for study outcome
Imaging acquisition:
Assist in MRI protocol set-up
Train personnel in consenting participants and MRI duties
Assist with fMRI task preparations and train on use of equipment
Image processing:
Quality control check
Pre-processing
Archiving images
For more information, visit http://brainmap.wisc.edu/ or download the imaging data dictionary.
Biomarker and Assay Service
Consultation: The Biomarker and Assay Service can consult with investigators regarding sample collection, sample storage methods, and analyses or assays relevant to the research study.
Biological assays: The Neuropathology and Biomarker's Core's (Core D) Bio-Assay Service has experience in performing assays in various biological samples including whole tissue (brain), whole blood, CSF, plasma, serum, saliva, and urine. Current assays include saliva, plasma, serum hormones (sex steriords and gonadotropins); whole tissue, plasma, CSF amyloid beta, tau, and tau phosphorylation.
For more information contact, Craig Atwood, PhD.
Research Participants
The Wisconsin ADRC's Clinical Core is a registry of potential subjects who are diagnostically well-characterized and willing to be approached for possible participation in research related to Alzheimer's disease and other dementias. Five groups of participants are recruited into the Clinical Core. These include:
Older adults with Alzheimer's disease
Older adults with Mild Cognitive Impairment (MCI)
Cognitively healthy older adults
Middle-aged adults at risk for Alzheimer's due to a parental history (IMPACT Parental History Positive cohort)
Middle-aged adults whose parents survived to old age without signs or symptoms of dementia; mother survived to age 75 and father to age 70 (IMPACT Parental History Negative cohort)
Archived Data
Interview and Questionnaire Data are collected annually from all Clinical Core participants. Data collected include the National Alzheimer's Coordinating Center's (NACC) Uniform Data Set (UDS). A description of the forms used to collect these data is available on the NACC website. Additional questionnaire and interview data that are unique to the Wisconsin ADRC are also collected. See Table 1 for a complete list of UDS and Wisconsin ADRC Forms, including NACC Form numbers. See the Wisconsin ADRC Data Dictionary for complete listing of data variables and their descriptions.
Cognitive and Psychological Variables: Cognitive testing includes the NACC battery and the Rey AVLT. In general, this standard cognitive battery is performed annually. Some additional psychological questionnaire data and cognitive test data are collected at the first annual follow-up visit (Year 2) from the middle-age cohorts. The battery is described in Table 1.
In addition to cognitive testing, the Wisconsin ADRC has three optional sub-studies. Outlined below, participants can choose to participate in any or all of these studies. The maximum time between a study visit (baseline or an annual) and CSF collection or MRI is six months. However, the two visits generally occur within two months of each other.
Neuroimaging Data are collected from eligible participants who agree to complete the optional substudy. Brain imaging is performed soon after a Clinical Core visit (Baseline or annual follow-up), and can be linked to variables collected at Core Visits. All scans are obtained in a fasting state, and prior to lumbar puncture (another, separate and optional sub-study) to reduce meningeal enhancement related to the lumbar puncture procedure. Neuroimaging data collected from Clinical Core participants include:
Anatomical scans: These are standard scanner sequences weighted for identifying and quantifying brain tissue health and volume. These include T1-weighted, T2 weighted, T2* weighted and diffusion weighted scans.
Blood flow scans: Scans weighted for cerebral blood flow are obtained. These include spin labeling and phase contrast methods that measure intrinsic flow-related signal. No IV-contrast is administered.
Functional scans: Blood oxygen-level-dependent (BOLD) scans are also acquired to make inferences regarding brain activity. These scans involve acquiring images while the participant is at rest.
Laboratory and Clinical Data: Additionally, laboratory tests are performed and vitals signs collected annually from all participants. These are listed in Table 1. Also listed in Table 1 is a genetic test performed at Baseline. Specifically, participants' Apolipoprotein E (ApoE) genotype is available.
Stored Samples
Banked tissues collected ante-mortem
Serum, plasma, whole blood, and DNA are collected in a fasting state from all Clinical Core participants and banked. Samples are stored as 1ml aliquots at -80 degrees. Cerebrospinal Fluid (CSF) from individuals eligible and willing to complete lumbar puncture is also available.
Banked tissue collected post-mortem
Brain tissue and CSF obtained from deceased Clinical Core participants, as well as tissue from decedents enrolled in the Wisconsin Brain Donor Program, are available to approved investigators. Banked tissues include right hemisphere blocks from patients with Alzheimer's disease, Mild Cognitive Impairment, cognitively healthy older controls, and individuals with other dementias, including rare forms of dementia (e.g., CADASIL, FTD). Download the current Tissue Catalog.
Care Research Consultation
The Care Research Core at the Wisconsin Alzheimer's Disease Research Center offers researchers consultations and study design support. If you would like to learn more about care research resources, please complete the Dementia Care Research Core Consultation Form. A member of the Care Research Core will contact you about your request within three business days.