Image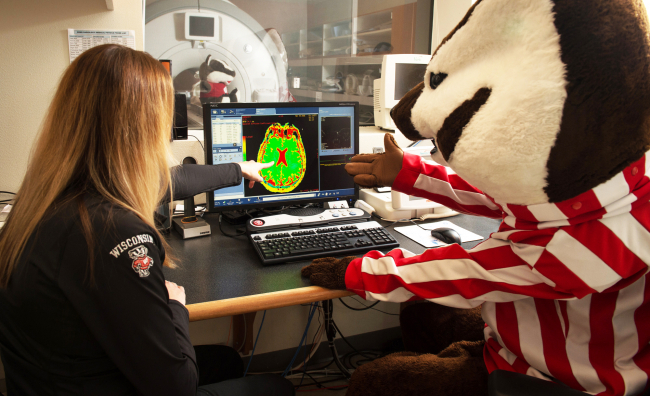 One of the missions of the Wisconsin Alzheimer's Disease Research Center (ADRC) is to help further scientific research in Alzheimer's disease and related disorders. To that effect, we make our data available to investigators who are approved through our electronic Resource Request Application.
Visit our Apply for Resources page for application information.
In addition, the Wisconsin ADRC offers a variety of researcher services available through the respective service leaders.
Explore the drop-down lists below to learn more about Wisconsin ADRC researcher resources and services, or download a PDF summarizing our resources and services for researchers.
Resources
Human Subjects Data

Interview and Questionnaire Data

Available from all participants enrolled in the Clinical Core. Our longitudinal data includes variables collected as part of the Uniform Data Sets (UDS) from the National Alzheimer's Coordinating Center's (NACC), as well as center-specific variables that may be unique to the Wisconsin ADRC. See Table 1 for a complete list of UDS and Wisconsin ADRC forms. A detailed description of the UDS forms is available on the NACC website. NACC also maintains an extensive Researcher Data Dictionary with information about current and previous UDS form versions. The Wisconsin ADRC Data Dictionary contains a list of center specific variables.

Cognitive and Psychological Variables

Cognitive testing includes the NACC battery, the Rey AVLT, and the NIH Toolbox. The cognitive battery is administered every year to controls over 65 years old and to participants with a cognitive impairment; younger controls ages 45 to 65 are scheduled for research visits every other year. Longitudinal data is available, with some participants having completed more than 10 visits with cognitive testing. Starting in August 2020, our center also started collecting cognitive data over the phone. For more information about the current NACC battery, please view Form C2: Neuropsychological Battery Scores and Form C2T:Neuropsychological Battery Scores for T-cog on the NACC website.

Biomarker data

In addition to completing cognitive testing, Wisconsin ADRC participants donate blood, cerebrospinal fluid (CSF), and provide neuroimaging data. About 75% of all ADRC Clinical Core participates have completed at least one MRI and close to 45% have completed one or more lumbar punctures. Additionally, participants have the option to undergo PET scans.

CSF has been historically analyzed in batches, using a crosswalk to convert values and work around lot-to-lot variability. More recently, our center has entered into a collaboration with Roche Diagnostics and has acquired an Elecsys® Immunoassay Analyzer in order to be able to run CSF samples in house using an automated process. 
Blood-based biomarkers are likely to change the way clinicians establish a clinical diagnosis of Alzheimer's disease. Our center collects whole blood, plasma, and serum from all Clinical Core participants. DNA from whole blood is analyzed after the first visit to determine each participants' Apolipoprotein E (ApoE) genotype. We also collaborate with other institutions to determine levels of amyloid and tau proteins based on plasma samples.
Neuroimaging Data are collected from all eligible participants. Images are collected according to the Standardized Centralized Alzheimer's & Related Dementias Neuroimaging (SCAN) criteria. Brain imaging is performed soon after a Clinical Core visit (Baseline or annual follow-up), and can be linked to variables collected at Core Visits. MRI scans are obtained prior to lumbar puncture (another, separate and optional procedure). Neuroimaging data collected from Clinical Core participants include:

Anatomical MRI scans: These are standard scanner sequences weighted for identifying and quantifying brain tissue health and volume. These include T1-weighted, T2 weighted, T2* weighted and diffusion weighted scans.
Blood flow MRI scans: Scans weighted for cerebral blood flow are obtained. These include multi-delay arterial spin labeling and 4-flow phase contrast methods that measure intrinsic flow-related signal. No IV-contrast is administered.
[11C]PiB PET scans: Scans for detecting amyloid burden.  Images are obtained from 0-70 minutes or 50-70 minutes post-injection of a target dose of 15 mCi of [11C]PiB.
[18F]MK6240 PET scans: Scans for detecting tau burden.  Images are obtained from 70-110 minutes post-injection of 5-10 mCi of [18F]MK6240. 

Laboratory and Clinical Data

Our center performs laboratory tests and collects vital signs at each in-person initial and follow-up visit. A list of tests in available in Table 1.

Neuropathological data set

This set contains autopsy data and a standardized evaluation form provided by NACC. The Researchers Data Dictionary is the primary resource for investigators interested in analyzing neuropathology data.

Wisconsin ADRC Participants and Caregivers

Clinical Core study participants

The Clinical Core observational study provides investigators with access to a diverse cohort of study participants. Participants in the Clinical Core fall within the following cohorts:

Diagnosis of dementia due to Alzheimer's disease
Diagnosis of mild cognitive impairment
Adults 45-65 with or without a parental history of Alzheimer's disease

Approximate racial breakdown

76% Caucasian
18% African American
6% Native American

Participants in the Clinical Core Registry complete comprehensive clinical evaluations and cognitive assessments, either on an annual or biannual basis. The evaluations and assessments generate high-quality, standardized clinical, cognitive, biomarker samples, and neuroimaging data. 

Annual and biannual visits

Fasting blood draw
Physical exam
Cognitive testing

Biomarker visits

MRI scan
CSF collection
PET scan

Wisconsin ADRC Research Recruitment Registry

The Wisconsin ADRC Research Recruitment Registry is made up of a group of people 18 years and older who are interested in joining research studies related to Alzheimer's disease. When someone joins the recruitment registry we ask them demographic and some health-related questions that can be found in our first contact form. (link FCF). Some participants are better characterized than others if they have participated in other research studies within our center.

Dementia Care Research Core Recruitment Registry

The Dementia Care Research Core Recruitment Registry was established as a resource for future care-focused clinical studies, made up of caregiver and participant dyads. The registry provides investigators with the ability to recruit

Caregivers of patients with diagnosed Alzheimer's disease, dementia or memory problems
Participant with diagnosis of Alzheimer's disease, dementia or memory problems
People 18 years or older

Participant with diagnosis and their caregiver agree to be contacted for:

New research studies
A baseline survey phone call and annual survey phone calls

Stored Biological Samples

Banked tissues collected ante-mortem

Serum, plasma, whole blood, and DNA are collected in a fasting state from all Clinical Core participants and banked. Samples are stored in 0.5–1ml aliquots at -80 degrees. Cerebrospinal Fluid (CSF) from individuals eligible and willing to complete lumbar puncture is also available.

Banked tissue collected post-mortem

The Wisconsin Brain Donor Program Tissue Catalog contains over 500 post-mortem biospecimen donations, including frozen and fixed brain tissues, frozen CSF, frozen whole blood, and formalin-fixed-paraffin-embedded tissue blocks and slides. While the brain bank is primarily focused on AD diagnoses, the donors span the gamut of neurodegenerative diseases: ADNC, LBD, ALS, FTLD, and CADASIL are just a few examples of the varied neuropathologic diagnoses that are available. Some of our brain donors were also enrolled in the Wisconsin ADRC Clinical Core or the Wisconsin Registry for Alzheimer's Prevention (WRAP) study, and additional research data may be available. For donors not enrolled in these studies, only limited demographic data is provided. Download the current Tissue Catalog.
Services
Genotyping Service

Data Collection, Statistical and Epidemiological Services

Neuropsychological Evaluation Service

Cerebrospinal Fluid (CSF) Collection Service

Neuroimaging Service

Biomarker and Assay Service

Care Research Consultation