Image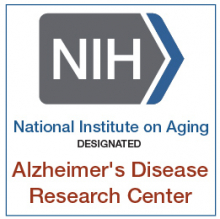 What is the Wisconsin Alzheimer's Disease Research Center?
The Wisconsin Alzheimer's Disease Research Center is the hub for aging and dementia research at the University of Wisconsin–Madison. The center supports 42 investigators, more than 100 scientists-in-training and approximately 50 research studies annually. The Wisconsin ADRC provides resources and sponsors events that educate the general public about the latest news and information on Alzheimer's disease prevention and care.
The center was established in 2009 with funding from the National Institute on Aging (NIA) and is one of 33 federally funded, NIA-designated Alzheimer's Disease Research Centers across the United States. The Wisconsin ADRC is part of a national network of scientists who are working toward the common goal of preventing and effectively treating Alzheimer's disease by 2025.
Research
The main research goals of the Wisconsin ADRC include improving early detection of Alzheimer's disease, identifying risk and protective factors, and finding ways to delay onset and progression of the disease. Much of the center's science is based on a wealth of information gathered from the research volunteers and families involved in its studies. 
The Clinical Core is a group of nearly 1,000 research volunteers who participate in regular research visits that include cognitive testing, health assessments, brain imaging and other procedures. About 25% of Clinical Core volunteers are from groups traditionally underrepresented in research, primarily African Americans and Native Americans. The majority of our research volunteers are in mid-life, which allows our scientists to better study how lifestyle factors may contribute to or protect against Alzheimer's disease risk.
Leadership
Sanjay Asthana, MD, Duncan G. and Lottie H. Ballantine Chair in Geriatrics, is founding director of the Wisconsin ADRC. He is an internationally renowned researcher and leader in the field of Alzheimer's disease and has been a faculty member of the UW School of Medicine and Public Health since 2001. Dr. Asthana sees patients in the UW Health Memory Assessment Clinic, specializing in assessing and diagnosing patients with dementia and other memory concerns.
Sterling Johnson, PhD, Jean R. Finley Professor of Geriatrics and Dementia, serves as Wisconsin ADRC associate director. A clinical neuropsychologist with research interests in Alzheimer's disease biomarkers and early identification of Alzheimer's' disease and related disorders, Dr. Johnson has led the development of multiple advanced brain-imaging techniques that are used around the world in studying Alzheimer's disease pathology. Dr. Johnson is the principal investigator of the Wisconsin Registry for Alzheimer's Prevention (WRAP) study.
A list of Wisconsin Alzheimer's Disease Research Center investigators.
Experts
Learn about some of our investigators and their expertise from the UW–Madison Experts Database.
Sanjay Asthana, MD – Geriatrician and expert on memory care, Alzheimer's disease, aging, academic research infrastructure, and clinical trials design; associate dean for gerontology at UW School of Medicine and Public Health
Barbara Bendlin, PhD – Expert on factors that contribute to or protect against the development of dementia due to Alzheimer's disease; gut microbiome and Alzheimer's disease; diabetes and Alzheimer's disease
Cynthia Carlsson, MD, MS – Geriatrician and expert in the diagnosis and treatment of Alzheimer's disease and related dementias; clinical trials examining the efficacy of medications to treat or prevent; veteran health
Nathaniel Chin, MD – Memory care geriatrician and expert on Alzheimer's disease prevention strategies and healthy aging for the mind and body; host of Dementia Matters podcast
Dorothy Farrar-Edwards, PhD – Expert on functional and quality of life assessment in persons with stroke and Alzheimer's disease; health disparities; minority recruitment/retention in research studies
Carey Gleason, PhD, MS – Expert on health disparities in underserved communities; identifying and reducing risk factors for Alzheimer's disease and dementia in African American and Native American communities
Sterling Johnson, PhD – Expert in early identification of Alzheimer's disease through advanced brain imaging
Amy Kind, MD, PhD – Geriatrician and health care/heath policy researcher with expertise in Alzheimer's disease and other dementias; social determinants of health and neighborhood disadvantage
Ozioma Okonkwo, PhD – Expert on exercise and Alzheimer's disease risk
Art Walaszek, MD – Geriatric psychiatrist and expert in the mental health of older adults; behavioral and psychological symptoms of dementia (BPSD)
Quick Stats
One in three seniors dies with Alzheimer's disease or another dementia
About two-thirds of people with Alzheimer's disease are women
5 million+ Americans are living with Alzheimer's disease; nearly 14 million will have the disease in 2050*
African Americans and American Indians are up to twice as likely, and Hispanics are about 1.5 times more times likely, to develop Alzheimer's disease as non-Hispanic whites
3 in 5 people with Down syndrome get dementia by age 55
Memory loss is just one symptom of Alzheimer's disease — early warning signs of the disease also include personality changes, confusion with time or place, difficulty completing familiar tasks, and trouble with numbers and problem solving**
Scientists at the UW are studying a range of factors that may contribute to Alzheimer's disease risk, including genetics, overall health, military status, socioeconomic status, gender, and race
Advanced brain imaging allows scientists to detect early brain changes associated with Alzheimer's disease up to two decades before a person experiences symptoms of the disease
Science consistently shows us that a healthy lifestyle – blood pressure control, physical activity, healthy sleep, and following the Mediterranean diet – is good for the brain and may slow the effects of Alzheimer's disease
* Statistics from Alzheimer's Association, 2019
** "What Are the Signs of Alzheimer's Disease?" from National Institute on Aging 
Contact Information
Members of the media can request interviews with our investigators through Emily Kumlien, UW Health media strategist, via phone at 608-265-8199, or email.