To arrange a donation for a registered brain donor
Individuals or organizations who need assistance with an urgent donation of an enrolled donor can call our 24-hour pager* at 608-265-7000, ext. 5332 (Note: This extension is our Pager ID). 
To register as a new brain donor
Individuals who are interested in registering for the Wisconsin Brain Donor Program can submit an online registry inquiry form, email us at brainbank@medicine.wisc.edu, or call our business line at 608-265-4000 any time and leave a detailed message.
To volunteer for a research study
If you would like to volunteer for an Alzheimer's disease research study at the University of Wisconsin, visit the Wisconsin Alzheimer's Disease Research Center website and complete the Research Recruitment Registry Enrollment Form.
* Our pager is for urgent inquiries about currently enrolled donors, or urgent inquiries about current or former participants in the Wisconsin ADRC Clinical Core research study. New enrollments must be completed a minimum of 24 hours in advance of death. Thank you for your understanding of our enrollment exclusions and limitations.
The Wisconsin Brain Donor Program is a repository for biological specimens — brain tissue, blood and cerebral spinal fluid — collected after death. The purpose of this program is to advance research in Alzheimer's disease and related dementias.
The Wisconsin Brain Donor Program is part of the Alzheimer's Disease Research Center, which collaborates with the Wisconsin Alzheimer's Institute (WAI), the Alzheimer's Disease Neuroimaging Initiative (ADNI), and organizations and researchers worldwide.
Who can donate?
Only current participants in our research studies and their biological parents can enroll in the Wisconsin Brain Donor Program. However, healthy older adults without memory difficulties or other significant neurological diseases are also encouraged to contact us to be considered for enrollment on a case-by-case basis.
 
All donation costs are covered for those who are accepted into the donor registry. Participation is voluntary, and enrollees are free to withdraw from the program at any time.
Why consider brain donation?
There is currently no cure for Alzheimer's disease, and a brain autopsy at the end of life is the most conclusive way to confirm disease. Brain donations from those with and without memory problems give researchers important material to help discover why some people develop Alzheimer's disease and why others do not.
Every brain is unique and tells an important story. A brain from a single donor can be used in multiple research projects that investigate the treatment and prevention of Alzheimer's disease and related dementias.
Who benefits from my donation?
For many donors, knowing they will be contributing to science and potentially helping their community or family is a rewarding experience. A donation can also offer family members information about their loved one's brain health and medical conditions at the time of death. It may encourage family members to make choices in their lives that will lead to better long-term health.
Learn more
Keretha joined the Wisconsin ADRC Clinical Core Study in 2013 and enrolled as a future brain donor in 2015.
---
Natalie donated her brain to help her family and others. To help find a cure, her family has also volunteered for research studies and have registered to be brain donors.
---
Image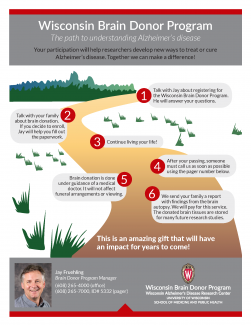 Wisconsin Brain Donor Program: The path to understanding Alzheimer's disease (1-page flyer, PDF)
---
Image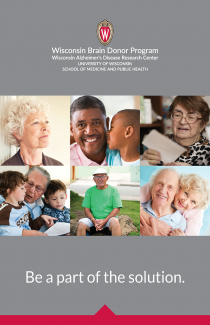 Wisconsin Brain Donor Program: Be a part of the solution (8-page brochure, PDF)