The Research Education Component (REC) Junior Fellowship is a summer research experience designed to introduce Wisconsin high school students to careers in neuroscience, geriatric medicine, and Alzheimer's disease research. 
Image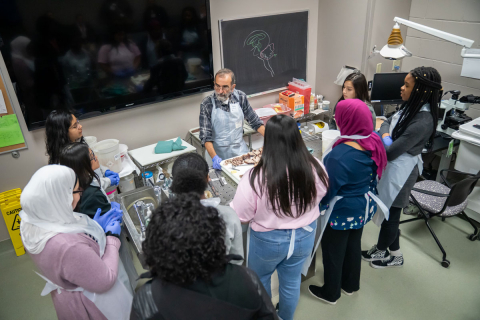 Each year, the Wisconsin ADRC awards five high school students with fellowships, inviting them to spend four weeks in the summer before their seniors years to train with our faculty and staff. We provide them with the resources and opportunities to fully explore what a career as a dementia scientist would entail. Junior Fellows are also invited to attend occasional, specially designed day-long programs for high school learners. 
Junior Fellows will:
Establish foundational concepts in dementia science and research
Learn about potential career paths related to dementia research through direct observation and interaction in a clinical setting
Experience an intellectually stimulating environment to network and develop supportive relationships with mentors in the field of dementia and aging research
Dementia is growing in prevalence, especially in groups traditionally underrepresented in research. Given this insight, our goal is to seek out passionate and hardworking students from these communities and others who are interested in pursuing a career in Alzheimer's disease and dementia research. Our goal is to identify, nurture, and cultivate the next generation of scientists. 
Learn more
Read an article about our Junior Fellowship Luncheon, held November 21, 2019.
How to apply
To apply, students must be enrolled in UW-Madison's Precollege Enrichment Opportunity Program for Learning Excellence (PEOPLE), a program that prepares low-income students, as well as those from UW-Madison targeted minority groups, for college. Applicants to the REC Junior Fellowship should be sophomores or juniors in high school. Applications will be made available by PEOPLE in the beginning of each year.
For questions about the REC Junior Fellowship, send us an email.