Image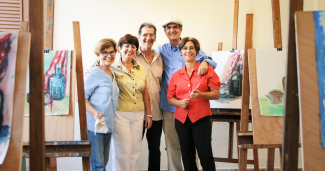 10:00 am - 12:00 pm
UW South Madison Partnership Office
2312 S. Park St.
Madison WI, 53713
Kimberly Mueller, PhD, CCC-SLP, is an assistant professor in the UW-Madison Department of Communication Sciences and Disorders and an investigator in the Wisconsin Alzheimer's Disease Research Center. She studies the effects of Alzheimer's disease on communication. In her presentation, Dr. Mueller will describe how enhancing cognitive and social engagement can positively influence cognition and quality of life. View a PDF flyer for Cognitive and Social Engagement.
Healthy Living with Mild Cognitive Impairment (MCI) is a support and education series for patients and families. Classes are held quarterly. The program is free and open to the public.
Dr. Nathaniel Chin, a memory clinic doctor with UW Health, is medical director of the series. Healthy Living with MCI is co-sponsored by the Alzheimer's Association South Central Wisconsin Chapter.
Registration
Registration is free. Contact Susie Fernandez to reserve your spot by December 2: (608) 265-0548 or sfernandez@medicine.wisc.edu.