Image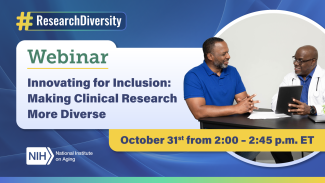 1:00 pm - 1:45 pm
Livestream
Each October, the National Institute on Aging (NIA) celebrates the importance of diversity within aging research. This year, the institute will host a webinar around the importance of clinical trial diversity within dementia research. Join NIA for the "Innovating for Inclusion: Making Clinical Research More Diverse" webinar. Speakers will offer their insights and resources to help support the inclusion of more diverse participants in dementia research.
The discussion will cover an array of important topics and perspectives, including:
Actionable and audience-tested tools, like OutreachPro, to support clinical trial recruitment efforts particularly among underrepresented populations.
Evidence- and practice-based insights on outreach interventions and alternative recruitment strategies from the University of Wisconsin's Alzheimer's Disease Research Center (ADRC).
The real-life experience of joining a study from a former ADRC clinical trial participant.
Register on the NIA's event page.
Speakers
Jeanne Jarvis-Gibson, MA, Office of Clinical Research, NIA
Shenikqua Bouges, MD, assistant professor, Wisconsin Alzheimer's Disease Research Center
Taryn James, PhD, scientist, Wisconsin Alzheimer's Disease Research Center
Jimmie Harris, clinical trial participant