Image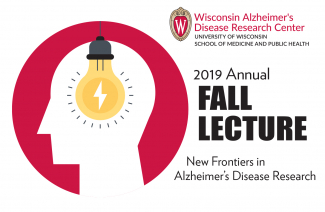 5:00 pm - 8:00 pm
Gordon Dining and Event Center
770 W Dayton St
Madison WI, 53706
The Wisconsin Alzheimer's Disease Research Center Annual Fall Lecture is held each fall in Madison, Wisconsin. This free community education event offers news about cutting-edge research in Alzheimer's disease and provides information to help people improve brain health and live healthier lives.
Agenda
Click here to view the 2019 Fall Lecture program.
View the presentations from the 2019 Fall Lecture:
About the keynote speaker
J. Neil Henderson, PhD, is professor in the Department of Family Medicine and BioBehavioral Health and executive director of the Memory Keepers Medical Discovery Team on Health Disparities at the University of Minnesota Medical School, Duluth campus. He is Oklahoma Choctaw. Dr. Henderson's research areas focus on dementia and diabetes among American Indian people. Specifically, his work is on dementia and diabetes as an interactive syndrome, biological and cultural influences regarding recognition and treatment of dementia and diabetes, cultural constructions of disease, and community health interventions and education in the context of cultural diversity.