Image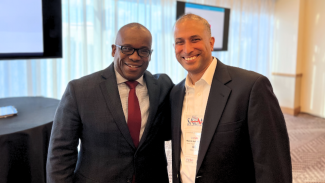 Manish N. Shah, MD, MPH, began his tenure as President of the Society for Academic Emergency Medicine Foundation (SAEMF) for the 2023-2024 term at the Society's Annual Meeting, held in Austin, Texas, from May 16-19, 2023. Elected to the position by SAEM member peers, Dr. Shah's diverse expertise and profound commitment to advancing emergency medicine research and education make him an exceptional fit for this prestigious national leadership role.
The SAEMF is the largest emergency medicine-based foundation in the nation dedicated to supporting innovative researchers and expert educators in academic emergency medicine. The Foundation directly supports those at the forefront of scientific discovery by awarding nearly $700,000 in grants annually. These grants ensure the continued growth of a vibrant community of scientists and educators dedicated to improving emergency patient care.
As a pioneer in geriatric emergency medicine, Shah brings a wealth of knowledge and experience to the position. He is the Chair of the BerbeeWalsh Department of Emergency Medicine at the UW School of Medicine and Public Health, where he is also a professor of emergency medicine, geriatrics and population health sciences.
As a clinician, researcher and educator, Shah has dedicated his career to improving prehospital and emergency department care delivered to acutely ill older adults, particularly individuals living with dementia. His pioneering efforts have helped to establish and advance the fields of geriatric emergency medicine and community paramedicine. Over his career, Shah has authored more than 175 publications and received over $150 million in grants and contracts as principal or co-investigator.
Shah is also a dedicated mentor focused on training and developing academic emergency medicine faculty and trainees, particularly researchers, and until recently led the National Institutes of Health (NIH)-funded KL2 Scholars Program at UW–Madison. 
As President, Shah will undertake several vital responsibilities. Working closely with the staff and the SAEM Grants Committee, he will explore new grant opportunities and collaborations, oversee the grants funded by the SAEMF, and spearhead fundraising efforts to support the Foundation's mission.
Shah has expressed his excitement about the SAEMF and its transformative impact on the field of academic emergency medicine, saying, "I am particularly proud of the career development grants, as these jump-start the careers of our researchers and put them on the path to NIH funding." He also acknowledges the outstanding staff of the SAEMF, noting that their expertise and dedication will facilitate the seamless execution of his responsibilities.
"Dr. Manish N. Shah assumes Presidency of the Society for Academic Emergency Medicine Foundation, outlines vision for advancing emergency medicine research and education," was published online by the BerbeeWalsh Department of Emergency Medicine on May 22, 2023.