Image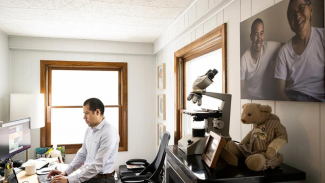 When asked by OnWisconsin magazine about the field of Alzheimer's disease research, Nathaniel Chin, MD, says, "We are on the trajectory for prevention."
Featured in the Summer 2023 issue of the magazine, Chin discussed how his father's diagnosis with Alzheimer's disease inspired him to change career paths, how Alzheimer's research is advancing, and gives advice to those who are navigating a loved one's diagnosis.
The feature also highlights other leaders of the Wisconsin ADRC and Wisconsin Alzheimer's Institute (WAI), Cynthia Carlsson, MD, MS, and Sterling Johnson, PhD.
"Progress on Alzheimer's Disease" was published online in OnWisconsin magazine on June 1, 2023.