Image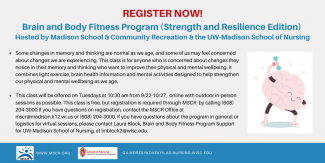 The Gilmore-Bykovskyi Lab, in collaboration with Madison School & Community Recreation (MSCR), will offer Brain and Body Fitness: Strength & Resilience Edition on Tuesdays, September 22-October 27, at 10:30 a.m.
Some changes in memory and thinking are part of normal aging, but some people may feel concerned about changes they are experiencing. This class is for anyone who is concerned about changes they notice in their memory and thinking who want to improve their physical and mental wellbeing. It combines light exercise, brain health information and mental activities designed to help strengthen physical and mental wellbeing during aging.
Classes will be held online with outdoor, in-person sessions as possible. The class is free and available to anyone living in the Greater Madison Area, but registration is required by calling the MSCR office at (608) 204-3000.
Article was updated 9/17/2020 to correct last date of class.