Image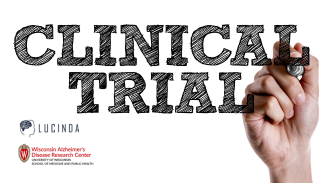 Researchers at the University of Wisconsin School of Medicine and Public Health are investigating whether the drug leuprolide, which is approved for prostate cancer in men, can be used to treat symptoms of Alzheimer's disease in women.
The goal of the trial, which is titled, Leuprolide plus Cholinesterase Inhibition to reduce Neurological Decline in Alzheimer's, or LUCINDA, is to determine whether the injectable medication leuprolide can slow or prevent a decline in thinking abilities and functioning in women with Alzheimer's disease who are also taking a cholinesterase inhibitor medication, such as donepezil, to manage disease symptoms. This study is led by a team at Weill Cornell Medicine in New York with enrollment underway at UW–Madison as well as the University of Miami, Florida.
Currently, leuprolide is approved by the Food and Drug Administration for treatment of prostate cancer in men, endometriosis in women and early puberty in children, but LUCINDA will look at repurposing leuprolide for Alzheimer's disease, according to Craig Atwood, professor of medicine, UW School of Medicine and Public Health.
"This medication is already widely available and relatively inexpensive," said Atwood, who has a doctorate in biochemistry. "If this trial can demonstrate that leuprolide is effective in treating Alzheimer's disease, we have the potential to help millions of people avoid the rapid mental decline and devastating impacts of this disease."
The LUCINDA trial will build upon previous research conducted by Atwood and others who tested the efficacy and safety of leuprolide in the treatment of Alzheimer's disease. Using leuprolide and donepezil together during that clinical trial successfully halted cognitive decline and was correlated with research participants being able to conduct self-care activities over the course of a year, according to Atwood. 
"We are hopeful that LUCINDA will provide similar benefits," he said. "Intriguingly, epidemiological studies have demonstrated that risk of death as a result of Alzheimer's disease may be decreased by 50% in those treated with a medication such as leuprolide."
During LUCINDA, participants undergo neuroimaging and submit blood samples to allow analysis of leuprolide's likely multiple mechanisms of action in Alzheimer's disease. Prior research in animals and humans suggests that this medication acts to suppress blood levels of two hormones called luteinizing hormone and follicle-stimulating hormone. Researchers found that lowering levels of these hormones can reduce signature features, or biomarkers, of Alzheimer's disease that are detectable in the brain such as amyloid protein deposition and tau phosphorylation. The hormones also influence inflammation and control abnormal brain cell replication, Atwood said.
"With the addition of data from neuroimaging and plasma biomarkers, we can gain a valuable insight into the progression of the disease in patients using this combination therapy," he said.
The study is open to women ages 65 and older who have been diagnosed with mild cognitive impairment or Alzheimer's disease and have been prescribed an acetylcholinesterase inhibitor like donepezil. Volunteers must have a family member or caregiver who spends at least five hours per week with them and who can also participate in all study visits. 
The study is a randomized controlled trial, meaning participants will be randomly assigned to receive either leuprolide or a placebo injection. Neither the participants nor the researchers will know what group they are in, but the study doctor can find out if medically necessary.
The trial takes place at University Hospital in Madison and involves eight study visits in a year. Participants will receive injections of either leuprolide or a placebo four times a year, complete tests of memory and thinking abilities, and undergo two magnetic resonance imaging scans and one positron emission tomography scan to measure amyloid in the brain. 
The LUCINDA trial is supported by a grant from the National Institutes of Health. The study drug is provided by Tolmar Pharmaceuticals. The study is run by the UW Clinical Trials Institute.
To participate in the study, contact the UW Clinical Trials Institute at 608-263-2704 or email mchilsen@clinicaltrials.wisc.edu.
For media inquiries, contact Jessie Geraci-Perez at 608-220-1514 or email jgeraci-perez@uwhealth.org.
In the News
"UW study examines potential treatment for Alzheimer's disease," was published online by NBC15 WMTV on November 3, 2023.
"UW researchers study treatment for symptoms of Alzheimer's disease in women," was published online by Channel3000 on November 3, 2023.
"Possible Alzheimer's treatment being studied at University of Wisconsin," was published online by CBS23 WIFR on November 3, 2023.
"A new effort to slow the progress, and possibly treat Alzheimer's Disease," was published online by CBS7 WSAW-TV on November 3, 2023.
"UW Health Alzheimer's Study Looking for Female Participants in Lucinda Study," premiered on WJFW-TV on November 3, 2023.
"Dementia Treatment Clinical Trial," premiered on WBAY-TV on November 3, 2023.
Article updated on November 13, 2023