Image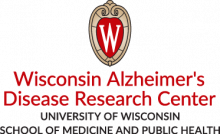 The Wisconsin Alzheimer's Disease Research Center (ADRC) and the Wisconsin Registry for Alzheimer's Prevention (WRAP) at the University of Wisconsin-Madison are conducting a brain imaging research study to identify how Alzheimer's disease develops. We use positron emission tomography (PET) to image amyloid plaques and neurofibrillary tangles. Studies such as this may identify ways to improve early detection and offer more accurate diagnosis. This is an add-on study to the ADRC Clinical Core and WRAP studies. This imaging study includes a wide range of participants from cognitively normal persons to those with mild cognitive impairment or dementia. We hope you will consider joining us for this next step in Alzheimer's disease research.
Participants will be asked to complete two PET scans. The amyloid PET scan takes 75 minutes. The tau (neurofibrillary tangle) PET scan takes about 50 minutes after a 70-minute resting uptake period. All participants will be compensated $50 for each PET scan.
You may receive more information about this study in the mail or at a future ADRC Clinical Core or WRAP study visit.