Image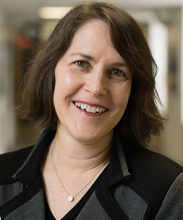 Transcript
Intro: I'm Dr. Nathaniel Chin, and you're listening to Dementia Matters, a podcast about Alzheimer's disease. Dementia Matters is a production of the Wisconsin Alzheimer's Disease Research Center. Our goal is to educate listeners on the latest news in Alzheimer's disease research and caregiver strategies. Thanks for joining us.
Dr. Nathaniel Chin: Welcome back to Dementia Matters' special series covering AAIC 2022, where we're getting to know the plenary speakers who will be featured at the conference. To hear more from these speakers and learn about their research, you can tune into their plenary talks virtually by registering at aaic.alz.org, or through the link in the episode description. Access to the plenary sessions is free to the public with registration, so be sure to register before the event starts on July 31st. On today's episode, I'm joined by clinical pharmacologist Dr. Krista Lanctôt. Dr. Lanctôt is a senior scientist in the Hurvitz Brain Sciences Research Program at Sunnybrook Health Sciences Centre and a professor at the University of Toronto. Through her 25 years of pharmacology research, Dr. Lanctôt has studied neuropsychiatric symptoms like apathy and agitation in connection to Alzheimer's disease and other neurocognitive disorders. Her AAIC talk on apathy in neurodegenerative diseases will take place on Monday, August 1st. Dr. Lanctôt, welcome to Dementia Matters.
Dr. Krista Lanctôt: Thank you, Nate.
Chin: I'd like to start by asking, what brought you to the field of Alzheimer's disease particularly with this focus on apathy and neuropsychiatric symptoms?
Lanctôt: Well, Alzheimer's disease is actually defined by the presence of difficulties with memory and learning and other cognitive difficulties. There's a whole other group of symptoms that occur in persons with dementia – neuropsychiatric symptoms. That term refers to a host of behavioral and mood symptoms that accompany Alzheimer's, like apathy and agitation. Apathy is the most frequent of these. It's a big contributor to lower quality of life. The frequency impact and lack of approved treatments are what drew me to focus on this symptom.
Chin: You have an extensive research background in clinical pharmacology. Can you explain for our listeners the relationship of pharmacology and symptoms such as apathy and agitation?
Lanctôt: In any group of people with Alzheimer's disease or related dementias, some patients will have apathy or agitation, but some will not. Why the difference? Ongoing research by my lab and other groups is linking these symptoms, such as apathy and agitation, to specific brain chemicals in their brain receptors and brain circuits. It's an important link because it's that which provides clues as to which pharmacologic treatments might work.
Chin: It's amazing to think about our emotions and our symptoms being broken down into the chemical relationships of our brain cells and the things happening in our brain cells. So it's your hope to understand that so then we could then use pharmaceuticals or other interventions to help people?
Lanctôt: Correct, because when these behaviors are such a change from the way that you've acted for your whole lifetime and they're in the context of a neurodegenerative disease, we think that it's the neurodegenerative disease that's contributing to that. That's probably our best avenue for helping with them.
Chin: I think it's also helpful to say to people when they see their loved one experiencing some of these neuropsychiatric symptoms, well it's not that they're trying to do this. This is a result of changes in the brain and the chemistry changes that are happening because of neurodegeneration. Is that right?
Lanctôt: That's exactly right. It's so difficult to deal with these behavioral changes and I think it really helps the care partners of persons with dementia. When you point that out to them, that it's not the person doing it on purpose, that there are actually changes in the brain that are contributing to that, it's no one's fault.
Chin: And I'd like to get to a definition, because I think it's important for people to know the difference. How do you define apathy and why does it develop in brain diseases like Alzheimer's disease and vascular disease in particular? 
Lanctôt: In the context of Alzheimer's disease and other brain diseases, the term apathy refers to diminished initiative, diminished interest, and diminished emotional responses. So a person with dementia might lose interest in hobbies or activities or the people around them and they might stop initiating any activities or interactions. Importantly, they stop responding to both happy events and sad events so they have emotional blunting. We think it develops when the structures that are associated with motivation are impacted by these brain diseases. My group specifically showed deficits in the brain reward system. It's also tied to injury in areas that are associated with planning and insight in the brain, which makes it even more difficult to treat.
Chin: Some of those symptoms that you're describing or experiences sound like depression. Is apathy the same thing as depression, or how would you differentiate the two?
Lanctôt: You're exactly right. A lot of the symptoms of depression overlap with some of the symptoms of apathy. For example, lack of interest overlaps. The main thing that distinguishes the two are the feelings of sadness or the feelings of worthlessness that happen with depression. Apathy is different because it's complete emotional blunting. They're not feeling sad. They're not feeling happy. They're not feeling anything. It's important to distinguish because there are different treatments for depression and apathy.
Chin: That's a perfect segue into my next question for you, which is what can be done for people experiencing apathy right now?
Lanctôt: First, once medical causes for any behavioral changes like infections are ruled out, the first step in treatment is always non-drug interventions, like supporting the person with planning and initiating. For apathy, sometimes medications like cognitive enhancers donepezil, rivastigmine, and galantamine help with apathy. Once those have been tried, our recent results from the ADMET 2 trials suggest that a trial of methylphenidate may additionally help some people with apathy.
Chin: What do you think the research landscape on apathy and neuropsychiatric symptoms will look like in the next five years?
Lanctôt: That's a good question. The field, in general, is moving to earlier detection of brain diseases like Alzheimer's by using brain scans and more recently blood tests. Over the next five years, I actually hope these research tools will start moving to the clinic. For neuropsychiatric symptoms like apathy, their late-life presentation should prompt the use of these diagnostic tests to allow early intervention and precise intervention.
Chin: Can you provide us with some key takeaways from your presentation at AAIC? And I don't want you to have to steal your thunder from the day itself, but if anything our listeners could hear now before they attend your talk.
Lanctôt: For key takeaways, I think it's important to know that apathy is frequent and it has a negative impact on persons with dementia. There are recent advances in defining this syndrome and helping us understand its underlying causes. The recent ADMET 2 trial of methylphenidate also shows that apathy can respond to medications and that paves the way for future clinical trials. There is hope that earlier identification and treatment can maintain quality of life.
Chin: What topic or talk are you looking forward to hearing about at AAIC 2022?
Lanctôt: I'm really excited to hear the latest results from clinical trials of novel targets and new biomarkers.
Chin: With that, thank you, Dr. Lanctôt, for joining us on Dementia Matters. I look forward to seeing your plenary talk at AAIC and hope to have you on for a separate episode in the future.
Lanctôt: Thanks so much, Nate. Nice to speak with you.
Outro: Thanks for listening to Dementia Matters. Be sure to follow us on Apple Podcasts, Spotify, Google Podcasts, or wherever you get your podcasts to be notified about upcoming episodes. You can also listen to our show by asking your smart speaker to play the Dementia Matters podcast. And please rate us on your favorite podcast app -- it helps other people find our show and lets us know how we are doing. Dementia Matters is brought to you by the Wisconsin Alzheimer's Disease Research Center. The Wisconsin Alzheimer's Disease Research Center combines academic, clinical, and research expertise from the University of Wisconsin School of Medicine and Public Health and the Geriatric Research Education and Clinical Center of the William S. Middleton Memorial Veterans Hospital in Madison, Wisconsin. It receives funding from private university, state, and national sources, including a grant from the National Institutes of Health for Alzheimer's Disease Centers. This episode of Dementia Matters was produced by Rebecca Wasieleski and edited by Caoilfhinn Rauwerdink. Our musical jingle is "Cases to Rest" by Blue Dot Sessions. To learn more about the Wisconsin Alzheimer's Disease Research Center and Dementia Matters, check out our website at adrc.wisc.edu. You can also follow our Facebook page at Wisconsin Alzheimer's Disease Research Center and our Twitter @wisconsinadrc. If you have any questions or comments, email us at dementiamatters@medicine.wisc.edu. Thanks for listening.