Image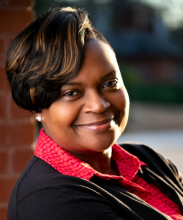 When seeking medical information and treatment, different racial and ethnic groups may require specially tailored information to relate to, understand and apply to their own experiences. In this episode, Dr. Fayron Epps joins the podcast to talk about the unique experiences of African American caregivers and her lab's work to provide education and assistance to their needs. Epps seeks to promote quality of life for families affected by dementia through research, education and service. This episode is part of a special three-part series highlighting speakers from the Wisconsin Alzheimer's Institute's 20th Annual Update in Alzheimer's Research and Related Dementias.
Guest: Fayron Epps, PhD, RN, FGSA, FAAN, assistant professor, Nell Hodgson Woodruff School of Nursing, Emory University, principal investigator, Faith Village Research Lab, founder, Alter
Show Notes
Learn more about the 20th Annual Update in Alzheimer's Disease and Related Dementias on the Wisconsin Alzheimer's Institute's website.
Watch the full keynotes of the event on our YouTube channel. Dr. Epps' keynote starts at 1:13:37 in the recording.
Learn more about Dr. Epps on Alter's website.
Connect with us
Find transcripts and more at our website.
Email Dementia Matters: dementiamatters@medicine.wisc.edu
Follow us on Facebook and Twitter.
Subscribe to the Wisconsin Alzheimer's Disease Research Center's e-newsletter.