Image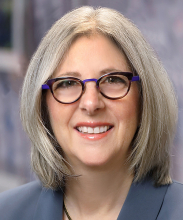 For our 100th episode of Dementia Matters, Nina Silverberg, PhD, director of the Alzheimer's Disease Research Centers (ADRC) Program at the National Institute on Aging (NIA), joins the podcast to offer an overview of the ADRC Program as well as insight into the state of Alzheimer's Disease research and its future. The NIA funds more than 30 Alzheimer's Disease Research Centers across the country, including the Wisconsin ADRC.
Guest: Nina Silverberg, PhD, National Institute on Aging
Visit alzheimers.gov for information about Alzheimer's disease and related dementias, living with Alzheimer's disease, and caring for someone with the disease. The NIA's website provides helpful information about brain donation and offers a variety of publications on health topics related to dementia and aging.
Episode Topics
How did you get involved with Alzheimer's disease? 1:32
How has Alzheimer's disease research changed over the last 15 years? 3:22
Brief history of the NIA's ADRC Program: 4:46
What role do the centers play in the field of Alzheimer's disease research and treatment? 6:24
How do the centers collaborate with one another? 7:48
What is your vision for the future of the ADRC Program? 9:47
How does the NIA report their process and findings to the public? 12:03
How does the NIA collaborate with other groups conducting research? 13:18
Are blood-based biomarkers the future of Alzheimer's disease research? 18:23
Do you think there will be more focus on other pathologies in the future? 20:09
How can Alzheimer's disease researchers help impact clinical care? 23:37
What area of Alzheimer's disease research fascinates you the most? 24:40
How close do you think we are to solving or curing Alzheimer's disease? 26:43
Find Dementia Matters online
Follow us on Facebook
Follow us on Twitter
Subscribe to this podcast through Apple Podcasts, Spotify, Podbean, or Stitcher, or wherever you get your podcasts.
Show Notes
Read Dr. Nina Silverberg's biography on the National Institute on Aging's (NIA) website, and follow her on Twitter at @Nina_BSil.
Learn about brain donation at the NIA's Brain Donation: A Gift for Future Generations webpage. Find more NIA resources:
Transcript
Dr. Nathaniel Chin: I'm Dr. Nathaniel Chin, and you're listening to Dementia Matters, a podcast about Alzheimer's Disease. Dementia Matters is a production of the Wisconsin Alzheimer's Disease Research center. Our goal is to educate listeners on the latest news in Alzheimer's Disease research and caregiver strategies. Thanks for joining us.
Welcome back to Dementia Matters. I'm very excited to have Dr. Nina Silverberg with me. Dr. Silverberg is the director of the Alzheimer's Disease Research Center's Program at the National Institute on Aging. She manages and supports the efforts of more than 30 NIA funded centers at major medical institutions across the country, including the one here at the University of Wisconsin. The ADRCs translate research advances into improved diagnosis care and treatments for people with Alzheimer's and other dementias as well as enhanced support for people who provide care for them. Dr. Silverberg received her PhD in cognitive psychology from the University of Arizona Tucson and worked as a clinical research scientist at the Alzheimer's Disease Center at Banner Sun Health Research Institute in Sun City, Arizona before joining the NIA in 2005. Dr. Silverberg it's an honor to have you here for our 100th episode.
Dr. Nina Silverberg: Pleasure to be here, thank you for having me.
Chin: I'm looking forward to a lively discussion about the state of Alzheimer's Disease research but first I want to hear a little bit about you. When did Alzheimer's Disease first enter your life and why did you choose this disease to study and investigate throughout your career?
Silverberg: Alzheimer's Disease entered my life when my grandmother, my father's mother, was diagnosed with Alzheimer's Disease and I was a teenager at the time and watched my grandfather, you know, watch her go through the various stages until he was unable to care for her anymore and then she was moved into a nursing home where he visited her every single day until she passed away. So that was tough to watch but really contributed very much to my understanding of the disease and the impact that it has on whole families. I wouldn't say that it was my intended area of focus. I sort of a little bit fell into it. I got my PhD, as you noted, in cognitive psychology, and I studied the tip-of-the-tongue phenomenon, when you have a word on the tip of your tongue, and just through a series of circumstances ended up in Arizona working on Alzheimer's Disease and really then got quite interested in it and working with diverse populations. I think, especially back then, it was much, very, very much understudied, especially in Native people, which was part of what I was interested in when I was there. 
Chin: The tip-of-the-tongue phenomenon is something that our audience and my patients often report to me too. So I think that is important and very interesting that that's one of your initial interests within the field, and I'm sure it has impacted you as you've gone along in your career. You began working at the National Institute on Aging about 15 years ago. Where was the  science around Alzheimer's Disease then and how seriously was the government addressing the issue?
Silverberg: I would say back then people were pretty focused on the more later stages and really focused on amyloid and TAO, which are still a primary area of focus, but it's broadened so much since then. I think there was a really - a huge amount that we didn't know at that time that we're really learning much more about now. And I would say the government has been pretty serious, and I think as Congress and their constituents age, our society ages, people are becoming more and more concerned. As you're well aware we've gotten large increases in funding over the recent years, but there's been a pretty strong interest since before I came to the National Institute on Aging. There has been a pretty impressive acceleration, not only in funding but in the type of research being done. 
Chin: I'm wondering if you can share with our audience just a brief history of the NIA's Alzheimer's Disease Research Center's Program itself?
Silverberg: Sure, it started actually in 1984 with authorization by Congress. The Alzheimer's Center's are one of very few centers that are designated as Centers of Excellence. We started with five funded in 1984, and now we have over 30 of them across the country. We recently added four exploratory centers that we wanted to aim at increasing diversity in three different ways. One, geographically, to spread across the country even more. One about the scientific areas of focus at the different centers, and lastly the different types of people that are participating in the research at those centers. And I think the Center's program really started with a focus on people with dementia, which makes sense. But now we have moved much more to looking at trying to understand who is most likely to develop impairment. And so we have a lot of people participating that do not have any dementia, or even any impairment, and we're trying to look at all the different risk factors so it's been a pretty big change over the last 15 or 20 years.
  
Chin: And that leads into my next question. When you talk about this evolution in our understanding and our approach, what role do the centers play in the government strategy to cure, prevent, and treat Alzheimer's Disease, and how have they contributed to the field of Alzheimer's Disease research?
Silverberg: I think the Alzheimer's Centers have really been the backbone of most of the research in not only Alzheimer's Disease, but also some of the related dementias. They really bring together scientists with a wide array of research focus areas. That's part of the point of having a center rather than just another research grant is to bring together these different scientists. But also, they work not only within each center but also across the network of centers, and they support participant recruitment. They were support data and sample sharing and, importantly, they helped to train the next generation of scientists in an environment with all of this different research going on. The other very important piece that the Alzheimer's Center's do is work in the local communities to help raise awareness and understanding of the disease. And what the research needs and successes are through the outreach recruitment and engagement course that they each have. One of the things that I love about the Alzheimer's Disease Research Centers is the collaboration among other centers and being able to meet with and discuss approaches and findings from all across the country. 
Chin: You hinted to this in your last answer. Could you give us a few specifics of the types of collaborative efforts that are currently being done? 
Silverberg: Sure. I mean, because each center has a neuropathological core, where they do autopsies on participants who have agreed to have autopsy at the end of life, this has been a major area of collaboration that is really fairly unique to the United States and the Alzheimer's Center's program; that they are able to connect what they see at the autopsy with what happened that was very carefully measured at the center during life. So that's certainly one area. They've played a major role in defining what the clinical symptoms are and in the assessment methods specifically, including imaging and other biomarkers. They share biosamples through the National Centralized Repository for Alzheimer's Disease and Related Dementias that's in Indiana. And this helps to have large-scale investigations that aren't just on a few samples that might be gathered in an individual study. These are all centralized there from across the country. And I would say, as I mentioned before, the outreach recruitment and engagement course, the materials that they develop for their local community are now being shared through NIA, through a database called ADORE, which stands for Alzheimer's Disease Outreach Recruitment and Engagement Repository. Those materials are now made available to other researchers to use. So these are ways of collaborating and sharing that have really helped advance the field. And it's so important because, instead of spending time reinventing the wheel, we can actually use the successes of other centers as we try to reach out to the community or try to start a different type  
of study. 
Chin: With your knowledge of the Alzheimer's Disease Research Centers and knowing what's happened over the past 15 or so years, what is your vision for the future of the Alzheimer's Disease Research Center Program?
Silverberg: I think that through this multidisciplinary approach that I've described, they're going to continue to conduct cutting-edge research and to support not only the current but also to anticipate future needs of A.D, Alzheimer's Disease, and related dementias research. Recently this has meant major upgrades to the connected infrastructure, including the National  
Alzheimer's Coordinating Center which coordinates across the Alzheimer's Centers and the Repository and a new resource that we now have for imaging to help standardize and centralize all of the imaging that's being done across the centers. And, you know, we always have to balance standardization with innovation, but I think that we're doing a pretty good job of that and now we're able to move toward new technological approaches that will capture even more information hopefully with less effort, on both the researchers' part and the participants' part. Then we're going to make that data available to a much broader array of scientists, hopefully internationally, so that we can get to the treatments as fast as possible. I know the drive is there and the people are there.  
Chin: Do you feel like the NIA has the resources to help this vision come to fruition?
Silverberg: Yeah. I mean, I think because of the recent major funding increases there's really been an explosion of advances in Alzheimer's and related dementias research. I think that we're going to be able to build on this to continue this unprecedented progress and, you know, hopefully prevent future cases as well as helping those currently affected
Chin: That sounds very positive. And I think for our audience to recognize that funding for research conducted through the NIA, it comes from the government, essentially taxpayer dollars. So how does the NIA report back specifically to the public about how it's using these dollars, and frankly, all the many accomplishments that have come already in the field of Alzheimer's Disease? 
Silverberg: Yeah, I will say this is a particular passion of mine. My mother was a career public relations person and really I got to see how important that was to share with the public what exactly is going on. And I hold that true. I think that as a taxpayer and as a citizen I think that it's a huge value to be sharing what we're doing, what the taxpayer dollars are going to. And so the way that we do that is kind of every way that we can think of. We talk to the media, we use social media, we do podcasts like this one, and you know the scientific community of course shares with each other through journal articles and conferences. 
Chin: Not all Alzheimer's Disease science is being conducted through the NIA and so there are other groups leading in some areas of Alzheimer's Disease research. How does the NIA collaborate with them and these scientists so there are multiple other groups other than the NIA?
Silverberg: First, I would say at the National Institutes of Health we have other institutes other than the Institute on Aging that we work very closely with, particularly NINDS which is the National Institute of Neurological Disorders and Stroke. We also work with the Heart, Lung and Blood Institute and many others because their research is highly relevant. For example, a lot of cardiovascular research is showing that the risk factors for heart and cerebrovascular disease are very similar, so diabetes, also a risk factor for the brain as well. And so we work with these other NIH institutes to leverage what they've already funded to help us understand answers to dementia research questions. In addition we also work with many different non-governmental organizations that are focused on Alzheimer's and related dementias. We invite them to attend events, they invite us to attend events, and we discuss what the latest findings are and how we can leverage what we have to help address their research questions. Then finally I would say international funders. We have meetings with other funding agencies in other countries to hear about their priorities and hopefully interconnect what they're doing, talk about different policies and so this is very helpful in advancing the field as well.
Chin: What other ways have you found communicating research findings to the public to be successful or frequently used? 
Silverberg: So, we try to use social media. It's a great way to reach a lot of audiences. We do outreach through the press and certainly through websites. Especially I encourage your listeners to take a look at our newly redesigned alzheimers.gov which is a great site that has a lot of information that really is aimed at the public and tries to use plain language and not scientific jargon. It's a combination including interviews and other ways that we can reach out through the outreach of the Alzheimer's centers and other researchers speaking. Congress also holds hearings so they can learn about the research and so that's another way.
Chin: And for our audience, we'll have those, some of those links on this podcast. I just really want to emphasize, too, that the NIA/NIH has a wonderful website — easy-to-read, easy-to-understand information in terms that we all can really relate to, and it is a trusted source because it is all evidence-based. It is one that I recommend to my patients so thank you for mentioning that. Nina, you know my next question. My next question for you is, what do you think the next five years of Alzheimer's Disease research will bring?
Silverberg: Well, I hope that it's going to look pretty different than it has in the past five years. I think that we're gaining a much much better understanding of a term that we have used a lot but haven't really delved deeply into which is heterogeneity. It means that there are so many differences in each person and that's where we get to what's been called precision medicine, so  that we're making sure that we understand, for each individual, what their risk factors are and what might help them specifically. This can be based on genetics, it can be based on their  environment, it can be based on their previous education; all kinds of pieces of information that  we weren't really able to put together before. And I think that this is not only an unprecedented  time in terms of dollars that are now available but also research tools, this big data and open  science. These are things that we just really in many years past didn't have access to in the way  that we do now and I think that's going to lead us to a much better understanding on an individual level, which is what we really haven't had before.
Chin: A common topic on this podcast revolves around biomarkers. Our audience understands at least that part of the term, but of course one of the questions that commonly comes up both in research and clinic is, are blood-based biomarkers a part of this next frontier? 
Silverberg: Yeah, I would say absolutely. I think blood-based biomarkers, you know, if everything pans out as we hope, and as it's looking it's looking very promising, but it will help in at least three different areas I would say. Number one, it's really going to hopefully help diversify the research participants because I think many more people are going to be willing to have blood drawn than have been willing to do. Some of the more invasive techniques that we've had to use in the past like a spinal tap to get cerebrospinal fluid, something most people are not really interested in  doing, and even brain imaging which does require injections sometimes and loud noises and other things. So hopefully the blood draw will be — more people will be open to doing that. And then, the second thing is... I think it again, if it pans out it will really help with targeted clinical  trials so that the people that are participating in the trial hopefully have the biomarkers that the trial was designed to look at. And then last, I would say hopefully if it works for in the clinic, which we're not there yet but we hope to be, is that it'll help to get more people correctly diagnosed and that's a big deal. So that will be a major impact if it pans out 
Chin: And you mentioned heterogeneity earlier. Do you think there's going to be more and more focus on other pathologies like vascular disease, Lewy body disease, and TDP 43, which can be related to frontal temporal disease?
Silverberg: Yeah I think absolutely. I think this is part of the bigger picture is that what we have been calling Alzheimer's Disease we already know is a mix of multiple other things. And we can't just look at one thing in isolation. So I think our increasing understanding of all these different related dementias and how they may all occur in one person, or at least more than one of them may occur in individuals, I think we have to understand everything in that context. We can't just look in isolation. So I do think that will be an increasing focus 
Chin: And I know this is a passion of yours, this idea, or this importance I should say, of having underrepresented groups and rural Americans in research. Knowing that our Alzheimer's Disease Research Centers usually are in major medical institutions which are usually bigger cities, how do we reach our underrepresented participants, our communities and how do we get out of big cities into the rural parts of the country?
Silverberg: I think there's two things. I think one is that we've really pushed now, harder and harder from at the national level, with the importance of reaching those communities, and I think you know the message is getting out. We've also provided some tools that will help when someone new to the research area is trying to figure out how to reach them. We have those tools now available from NIA. And some of those techniques that are being used, community advisory boards and really this approach of community-based participatory research, which means that people from the community are not just involved in giving advice or participating but they actually help to design the studies. They help to look at the materials that are provided to the community, to invite them to participate. They help to look at what types of questions are being asked, and so this method is really helpful in getting people interested and involved in the research. And then the second thing is, you were asking about rural. You know, it is harder because many of these techniques have really required the research participants to come to the medical center to get imaging and to have a better opportunity for the clinicians to evaluate them, but more and more we're having opportunities for remote assessment. There are so many different ways that we can look at risk factors and people's ideas and, you know, collect blood and collect other types of information at a distance that I think will really really help with this issue of kind of an elite set of people that have been participating in the past. 
Chin: A phrase that I really like is until there is a cure, there is still care and prevention. And so, with that in mind, how can Alzheimer's Disease Research Centers and the researchers who are looking at Alzheimer's Disease help and impact clinical care?
Silverberg: Yeah, I think care is at the heart. I mean that's why we want to do all this research, so that we know how to best take care of people. So I think the Alzheimer's Centers, all of them do this work. And we do have a couple, including yours in Wisconsin, that have a focus specifically on care. It's a central part of the center's funding and research, so I think that's very important. And I think in the future it's going to only be increasing how we provide information from the research that is translated into better care.
Chin: What area of Alzheimer's Disease research most fascinates you?
Silverberg: Well, it may sound morbid, but actually neuropathology. When I first started in Alzheimer's Disease research I was working in Arizona, and the place I worked had tours for the public of the brain bank, which shocked me at first that people were interested and wanted to do that, but it was very popular, and it was in a retirement community and people just were so interested. And I enjoyed going on the tours. I enjoyed listening to people's questions. I enjoyed seeing what they learned from it. And I think one of our exciting research findings that came out of the Alzheimer's Centers program is the newly defined condition LATE, which stands for Limbic Predominant Age-Related TDP 43 Encephalopathy, which is a mouthful. But it's something that is very much like Alzheimer's Disease, but occurs more in older adults and is a new area of research.
Chin: I appreciate your honesty in answering that. I don't think it's morbid at all. I hope that our audience can appreciate that, in order for us to act on Alzheimer's Disease, we have to identify it and it takes the amazing donation of a brain in order to truly know the disease and therefore study it. So I completely agree with you, I think neuropathology is absolutely essential and that and foundational to our understanding and eventual cure of this disease. 
Silverberg: And there's still so much we don't know. 
Chin: And still so much, which means we really do appreciate those donations and continue to accept those donations. It really is the definitive way for us to understand this disease. We have  made a lot of progress in other diseases and we are certainly making progress in Alzheimer's  Disease, but why has it taken us so long to get here, where we are now, and how close do you think we are to curing or solving Alzheimer's Disease?
Silverberg: Well, I think that we're closer than we've ever been. To answer your question about why it's taken so long, I would say we started out with a bit of a simplistic view. For a good reason, there was a lot of evidence, you know, with this focus on amyloid and then TAU. Like I said there's a lot of evidence for that, but, you know, sometimes a simplistic view is helpful and it gets you to a solution faster. But in this case, we needed to understand more, we needed to collect more data on more different people, and we needed to test more and different ideas. And I think we're really heading in that direction. I think we have a lot of opportunities that we just didn't have before using different types of data, using technology to collect data that we just couldn't get before, and then making that available to a lot of different scientists, so I think those are great ways. I think with COVID, the research was so successful so rapidly for a number of reasons. It built on existing knowledge, there's an unprecedented focus even globally, unprecedented data sharing for sure, massive collaboration, you know heightened awareness of disparities and efforts toward equity. I think that had a major role in why this has been so successful with COVID research. I think that because we had that, you know, obviously COVID got in the way of a lot of research, but it laid the groundwork I think and provides a demonstration of how this can be successful. So I think we're in a very good place right now. 
Chin: I appreciate your optimism about this too, and I wonder now with my last question for you. Fast forward a year from now, what area of Alzheimer's Disease research really excites you? What about next year do you think you'd be very excited to share with the general public? 
Silverberg: Well, hopefully we'll have a treatment but barring that… I think that really we're gonna have a major increase in the ability to use technology to reach people in, you know, people who live alone, people who live in remote locations, people who would not have been willing to participate in research, and we're going to be able to use it in ways that doesn't require a lot  of effort for those participants and hopefully for the researchers and making it available to lots of wide variety of other researchers who may have different approaches and different interests and can connect all these different pieces. I think that's going  
to really get us far fast.
Chin: With that, Thank you Dr. Nina Silverberg for coming on Dementia Matters today and sharing with us not only the history, but your insights on Alzheimer's Disease, NIA funding, and our Alzheimer's Disease Research Centers
Silverberg: Happy to be with you. Thank you! 
Chin: Please subscribe to Dementia Matters on Apple Podcasts, Spotify, Podbean, or wherever you get your podcast. And rate us on your favorite podcast app; it helps other people find our show and lets us know how we're doing.
Dementia Matters is brought to you by the Wisconsin Alzheimer's Disease Research Center. The Wisconsin Alzheimer's Disease Research Center combines academic, clinical, and research expertise from the University of Wisconsin School of Medicine and Public Health and the Geriatric Research Education and Clinical Center of the William S. Middleton Memorial Veterans Hospital in Madison, Wisconsin. It receives funding from private university, state, and national sources, including a grant from the National Institutes of Health for Alzheimer's Disease Centers.
This episode was produced by Rebecca Wasieleski and edited by Bashir Aden. Our musical jingle is "Cases to Rest" by Blue Dot Sessions. Check out our website at adrc.wisc.edu. You can also follow us on Twitter and Facebook. If you have any questions or comments email us at dementiamatters@medicine.wisc.edu. Thanks for listening.