Image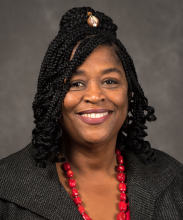 In this special holiday bonus episode, we are joined by poet laureate, writer, and senior outreach specialist, Dr. Fabu Carter, to discuss the impact of poetry on memory loss and a reading of her poem "For Our Beloved Elders with Memory Loss." Guest: Fabu Carter, PhD, MA, Senior Outreach Specialist, University of Wisconsin of Medicine and Public Health
Episode Topics:
What is the importance of poetry on Alzheimer's Disease? 1:20
Reading of "For Our Beloved Elders with Memory Loss" 4:51
Subscribe to this podcast through Apple Podcasts, Spotify, Podbean, or Stitcher, or wherever you get your podcasts. 
Show Notes
The mission of the Alzheimer's Poetry Project is to improve the quality of life of people living with Alzheimer's disease and related dementia by facilitating creative expression through poetry.
Learn more about Dr. Carter at her website, www.artistfabu.com.
Read Dr. Carter's poem "For Our Beloved Elders with Memory Loss" in the Fall 2020 issue of Corpus Callosum.
Transcript
Intro: I'm Dr. Nathaniel Chin, and you're listening to Dementia Matters, a podcast about Alzheimer's Disease. Dementia Matters is a production of the Wisconsin Alzheimer's Disease Research Center. Our goal is to educate listeners on the latest news in Alzheimer's Disease research and caregiver strategies. Thanks for joining us.
Dr. Nathaniel Chin: Welcome back to Dementia Matters. I have a special episode for our audience today. With me – well, virtually with me – is Dr. Fabu Phyllis Carter, professionally and lovingly known as Fabu, here in Madison, Wisconsin. She is a poet, columnist, storyteller, and teaching artist who writes to encourage, inspire, and remind. The first African American selected as a Madison Poet Laureate from 2008 to 2012, she shares the Black experience living in the south, the midwest, and in Africa. Dr. Carter is also a senior outreach specialist with the Wisconsin Alzheimer's Disease Research Center and works with the African American and Native American communities. Welcome to our podcast, Dr. Carter.
Dr. Fabu Carter: Thank you. I am delighted to be here.
Chin: In the future, I'd like to have you back to talk about the importance of community engagement, trust and research, and participant retention in Alzheimer's disease research, particularly those individuals from underrepresented groups. However, for today I've asked you to be on the show to share a poem you've written called, "For our Beloved Elders with Memory Loss." It is currently being shared in the fall issue of the Corpus Callosum, the Ebling Library's Journal of the Arts. I read it the other day and it had a profound impact on me. With the holidays upon us, there is an atmosphere of celebration and love but this holiday can be difficult for many of us because we aren't able to do the same traditions as we've done in the past. For those who are older, perhaps experiencing memory loss, this can be quite hard. To me, your poem is a tribute to what we can do for those we care for, no matter the circumstances. You are the Wisconsin director of the Alzheimer's Poetry Project. Before we hear your poem, can you share with us the importance of poetry and the Alzheimer's Poetry Project on memory and those affected by memory loss. 
Carter: Well, I like to say, I am a poet and I know it. Even though I'm not a rhyming poet, poetry has always been extremely important to me my entire life. It's the way I express myself in the world. I've been so delighted to work with the Alzheimer's Poetry Project and Gary Glazner out of New York because what he does is we use the thing we love – poetry – to assist people who are having memory problems. What we found is that there are a whole generation of people who appreciate and love poetry and have memorized it, and so it's a beautiful thing. I worked – before we went in shelter, I worked with six facilities in Madison. We actually got together. I shared my poetry. We did poetry on a particular theme, and then we wrote poetry together. There's a beautiful process in which people can say poems and then we collect them and I write them down together. We've discovered that poetry could be very instrumental in igniting memories. It's a wonderful thing to see elders who can start off a poem that they learned in their childhood or at grade schools and then they join in and finish the poem together. It's also wonderful that poetry can be used as a creative tool. No matter what our memory is functioning at, we can still create and we can still have joy around making poetry together. I would say that poetry is essential to life, and I'm so excited that poetry can be instrumental in helping people maintain their creativity as well as create new poems about new situations and new experiences. 
Chin: Thank you for the work you and the other amazing poets are doing to really enhance and improve the quality of life for those with Alzheimer's disease. I'll turn it back to you for the reading.
Carter: Thank you. So I actually wrote the point out of my experiences, both work and in the community. 
"For Our Beloved Elders with Memory Loss"
Some call you seniors
I call you wise elders
Living long and learning much. 
You should be honored
Your grey hair a symbol of victory and authority in life.
When your memory hides or flees
And every face seems strange
Feel the other signs of love. 
Gentle touch, kind voice
The spirit that welcomes you just as you are.
Reassure yourselves
That you know how love feels
For it will chase the fear of forgetting away.
Chin: Fabu, thank you for reading your work to us. With that, I would like to thank Dr. Fabu Carter for being on our show today and wish everyone listening a happy and safe holiday season.
Outro: Please subscribe to Dementia Matters on Apple Podcasts, Spotify, Podbean, or wherever you get your podcasts. And rate us on your favorite podcast app — it helps other people find our show, and let's us know how we are doing. Dementia Matters is brought to you by the Wisconsin Alzheimer's Disease Research Center. The Wisconsin Alzheimer's Disease Research Center combines academic, clinical, and research expertise from the University of Wisconsin School of Medicine and Public Health and the Geriatric Research Education and Clinical Center of the William S. Middleton Memorial Veterans Hospital in Madison, Wisconsin. It receives funding from private university, state, and national sources, including a grant from the National Institutes of Health for Alzheimer's Disease Centers. This episode was produced by Rebecca Wasieleski and edited by Bashir Aden. Our musical jingle is "Cases to Rest" by Blue Dot Sessions. Check out our website at adrc.wisc.edu. You can also follow us on Twitter and Facebook. If you have any questions or comments email us at dementiamatters@medicine.wisc.edu. Thanks for listening.