9:30 am - 11:30 am
Online/Zoom
Image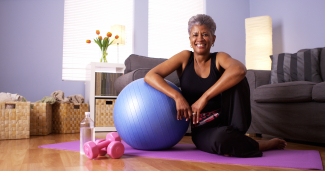 Join us for "Healthy Living with Mild Cognitive Impairment (MCI): Exercise Your Way to Better Brain Health." Attendees will learn about the benefits of physical activity in healthy brain aging. The presenters will discuss physical activity's role in cognition and brain changes, suggest various ways to get moving, and lead a short movement activity. The following presenters will offer their expertise during the class:
Max Gaitan, MEd, and Sarah Lose, MS, exercise physiologists at UW-Madison and members of Dr. Ozioma Okonkwo's lab in the Wisconsin Alzheimer's Disease Research Center.
Nathaniel Chin, MD, UW Health memory clinic doctor and medical director of the Healthy Living with MCI series.
Class will be held virtually using Zoom. This class is co-sponsored by the Alzheimer's Association Wisconsin Chapter.
View an informational PDF about this class.
Learn more about this class series and view upcoming dates and archived past classes at the series web page.
REGISTRATION
Registration is free and everyone is welcome to attend. To reserve your spot, register online. If you have questions, contact Bonnie Nuttkinson at 608-265-0407.