Image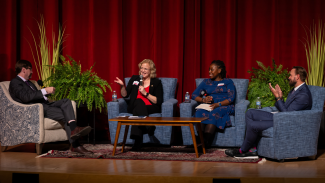 Over 300 guests attended the Fall Community Conversation on September 21, 2023, held at the Middleton Performing Arts Center in Middleton, WI. The annual community event focused on new treatment options for Alzheimer's disease, including aducanumab, lecanemab and donanemab.
Dr. Sanjay Asthana opened the event with updates from the Wisconsin Alzheimer's Disease Center (ADRC) before Dr. Cynthia Carlsson gave a presentation introducing the new treatments. Following the talk, Dr. Art Walaszek led a discussion and audience Q&A with Carlsson, Dr. Shenikqua Bouges and Dr. Jack Temple. Topics covered included who is eligible to receive treatments, where someone can get treatment and what is known about Medicare coverage.
Image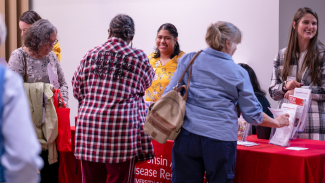 Prior to the event, attendees were able to enjoy a resource fair and light refreshments. The resource fair was generously co-sponsored by Dementia Friendly Middleton/West Madison.
The Fall Community Conversation was generously sponsored by Vista West, Cairasu Home Care, Oakwood Village, Cardinal View Senior Living, and the All of Us Research Program.
Watch the 2023 Fall Community Conversation recording online on our YouTube page.
Photos courtesy of Cynthia Carlson.