Image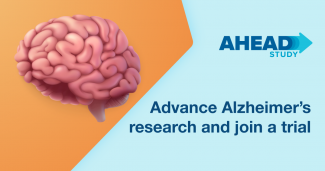 The AHEAD Study is a new research study examining whether intervening ahead of symptoms may prevent future memory loss and dementia. AHEAD is the first research study that aims to help prevent Alzheimer's disease by enrolling participants as young as 55 and using a tailored dosing approach.
The study looks at an investigational treatment aimed at delaying memory decline in people up to 20 years before the symptoms of Alzheimer's disease appear. Discovering a treatment that targets brain changes early means doctors may be able to one day prevent memory loss.
Cynthia Carlsson, MD, MS, is principal investigator of the study location at UW‒Madison. "We know that changes in the brains of people with Alzheimer's disease begin up to 20 years before a person notices symptoms, but until now, most clinical trials have included older patients who already have symptoms," Carlsson said. "By inviting younger participants without symptoms, we hope to help individuals who are at higher risk ‒ such as people with family history ‒ get ahead of the disease with early intervention. We also want to reach diverse communities to learn more about why people of color may be at higher risk of cognitive decline."
Read the full news release "Groundbreaking Phase 3 Alzheimer's Clinical Trial at UW in Need of Volunteers," published by the UW School of Medicine and Public Health on June 29, 2021.
Learn more about volunteering for the AHEAD study.
In the News
The AHEAD study and Carlsson were feature in multiple news outlets across Wisconsin.
"UW to study experimental drug for Alzheimer's in people without symptoms" appeared in the Wisconsin State Journal on June 29, 2021.
"UW taking volunteers in trial for groundbreaking Alzheimer's treatment" appeared on WKOW 27 in Madison on June 29, 2021.
"UW Alzheimer's groundbreaking study, volunteers needed" appeared on Fox 6 in Milwaukee on June 30, 2021.
"The UW School of Medicine is seeking volunteers for a trial of an Alzheimer's treatment that would help before symptoms appear" appeared in the Milwaukee Journal Sentinel on June 30, 2021.