Image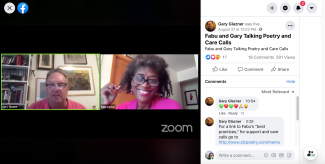 Wisconsin ADRC senior outreach specialist Fabu Carter joined Alzheimer's Poetry Project founder Gary Glazner on Facebook Live to share poetry, offer tips for check-in calls with elders, and discuss virtual programming. Carter leads the Wisconsin ADRC Alzheimer's Poetry Project in Madison, Wisconsin.
The COVID-19 pandemic has disrupted much of the Alzheimer's Poetry Project's programming, but a few initiatives have moved online, including the annual Memory Camp, traditionally held at Moon Lake in Saint Germain, Wisconsin. A sleep away camp for people with the lived experience of dementia and their families, this year's Memory Camp Found Art Project is going virtual with a Zoom presentation on Saturday, September 12. (Find details and registration information on the Memory Camp webpage.)
Another initiative the Alzheimer's Poetry Project is pursuing during the pandemic is placing check-in calls to former Memory Campers and other elders. "Check-in calls are to be supportive to that person -- that's really your main goal," Carter explained during the Facebook Live session. "You are placing the call to offer support, to be a listening ear, to be kind, and to let people know they're not alone in the world." 
Carter offered a few tips for successful check-in calls:
Make sure you have time for a call
Remove background noise
Have paper and a pencil next to the phone in case you need to take notes
Talk slowly and clearly
Be a good listener
Always be kind
Watch the archived Facebook Live conversation, which was recorded on August 27, 2020.