Image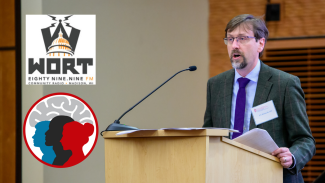 Art Walaszek, MD, joined WORT-FM to discuss new treatments for Alzheimer's disease and the upcoming Fall Community Conversation. Walaszek chatted with host Jan Miyasaki about what new treatments are available, what the annual event will focus on and how ageism impacts society's views on aging.
The Fall Community Conversation is an annual, free community educational event hosted by the Wisconsin Alzheimer's Disease Research Center that will offer news about cutting-edge research and provide information to help people improve brain health and live healthier lives. The theme for the 2023 event is "New Treatment Options for Alzheimer's Disease." The event will feature a healthy aging resource fair, light refreshments and talks from University of Wisconsin faculty, including Shenikqua Bouges, MD, Cynthia Carlsson, MD, MS, and Jack Temple, PharmD, MS, CPEL.
"Public Conversation: New Treatment Options For Alzheimer's," was broadcast live on the 8 O'Clock Buzz on September 13, 2023. The broadcast was posted on WORT-FM's website on September 15, 2023.