Image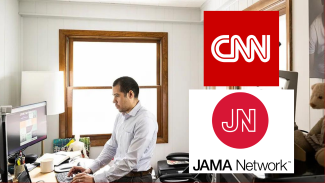 Nathaniel Chin, MD, was quoted in an article by CNN highlighting the Phase 3 clinical trial results of donanemab, a monoclonal antibody seeking approval from the U.S. Food and Drug Administration (FDA).
Weighing the benefits and concerns of the drug, Chin was quoted alongside Eric Widera, MD, of University of California San Francisco, and Sharon Brangman, MD, of SUNY Upstate Medical University. They said, "The modest benefits would likely not be questioned by patients, clinicians, or payers if amyloid antibodies were low risk, inexpensive, and simple to administer. However, they are none of these."
The quote comes from an editorial piece from the Journal of the American Medical Association (JAMA), titled "Ushering in a New Era of Alzheimer Disease Therapy," written by Chin, Widera and Brangman. The editorial highlights findings from the lecanemab and donanemab clinical trials and discusses how these new treatments will impact research and clinical care as they begin to be used in the real world.
"Ultimately, new treatments such as donanemab will not only change the Alzheimer research landscape but also the clinical one," they said. "Accurate and timely diagnosis, thoughtful discussion on individualized risks and benefits, and an emphasis on chronic care management have never been more important."
Results for donanemab's latest clinical trial, called TRAILBLAZER-ALZ 2, were presented at the 2023 Alzheimer's Association International Conference (AAIC) and published in JAMA on Monday, July 17. Eli Lilly, donanemab's manufacturer, said in a news release that it had completed the submission for the drug to the FDA and expected regulatory action by the end of the year.
"Second Alzheimer's drug to slow disease's progression may be approved in the US this year," was published online by CNN on July 17, 2023.
Related Links
The editorial written by Chin, Widera, and Brangman was mentioned in The New York Times article, "Treating Alzheimer's Very Early Offers Better Hope of Slowing Decline, Study Finds," published on July 17, 2023.