Image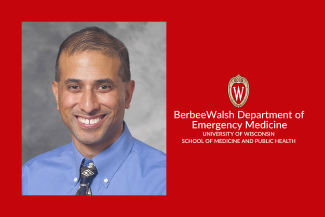 Manish Shah, MD, MPH, an expert in geriatric emergency medicine and an investigator in the Wisconsin Alzheimer's Disease Research Center (ADRC), will be the new chair of the BerbeeWalsh Department of Emergency Medicine at the University of Wisconsin School of Medicine and Public Health (UWSMPH). Shah's appointment will begin on September 1, 2022.
Shah treats patients who enter the emergency department and leads a robust research program that strives to improve emergency care for older adults. He also serves as co-leader of the Wisconsin ADRC Care Research Core, a program dedicated to improving patient care for people with dementia and their families.
In 2020, Shah received funding from the National Institute on Aging for a grant focused on improving emergency care for people with Alzheimer's disease and related dementias. His 2020 Wisconsin Partnership Program grant aims to improve emergency department preparedness for surges of COVID-19 patients.
In 2021, Shaw was a guest on the Wisconsin ADRC Dementia Matters podcast, where he shared emergency care tips for people with dementia. 
The Department of Emergency Medicine published "Manish Shah named as Chair, Berbee Walsh Department of Emergency Medicine" on June 9, 2022.