Image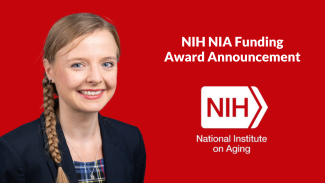 Natascha Merten, PhD, MS, has been awarded an R01 from the National Institute on Aging for her study "The Beaver Dam Offspring Study Neurocognitive Aging Study (BOSS-NCAS)-A Study on the Role of Accelerated Aging and Midlife Sensory Decline for Early Alzheimer's Disease and Dementia in Later Life." The study was funded with ~$2.5M in direct costs.
In this work, Dr. Merten and her research team will contribute to developing practical methods to identify people at high long-term risk of Alzheimer's disease and related dementias (ADRD) early in their midlife and to understanding the shared etiologies of sensory and cognitive changes which could inform potential pathways for prevention of ADRD to promote healthy brain aging.
"Natascha Merten Appointed to Assistant Professor in the Department of Population Health Sciences" appeared on the Population Health Sciences website on November 1, 2022.
Updated April 19, 2023.