Image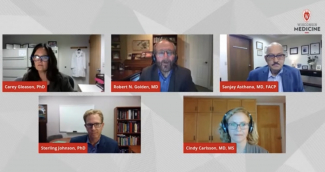 The University of Wisconsin School of Medicine and Public Health (UWSMPH) held an online discussion Tuesday, September 15 about the current Alzheimer's disease research taking place at UW–Madison and clinical breakthroughs. The "Wisconsin Medicine Livestream: Ending Alzheimer's" presentation was moderated by Robert N. Golden, MD, Dean of Students at UWSMPH and streamed live on YouTube.
Dean Golden hosted the livestream and started the presentation by sharing facts about Alzheimer's disease. He said one statistic that keeps Alzheimer's disease in a league of its own is that it is one of the top 10 deadly diseases in the United States, but it is the only one that cannot be prevented or treated. 
The first speaker Dean Golden introduced was Sanjay Asthana, MD, associate dean of gerontology at UWSMPH and director of the Wisconsin Alzheimer's Disease Research Center (ADRC). Dr. Asthana shared that over 5.8 million Americans currently have Alzheimer's disease and nearly 14 million Americans will have it by 2050. He then pivoted and talked about the Alzheimer's disease programs at the University of Wisconsin, namely the Wisconsin ADRC and the Wisconsin Alzheimer's Institute (WAI). The programs possess different approaches but have one goal in mind — beating Alzheimer's disease. While the Wisconsin ADRC is one of about thirty National Institutes of Health (NIH)-funded Alzheimer's Disease Centers that conducts basic and clinical research, the WAI is tied to public health programs and emphasizes educational outreach. Dr. Asthana completed his presentation by talking about distinguishing features of the UW–Madison Alzheimer's disease programs. The first distinguishing feature he mentioned was the focus on research into early detection by novel brain imaging, spinal fluid tests and blood tests. Next, the programs put a heavy emphasis on social determinants of health while also engaging persons from racial and ethnic populations traditionally underrepresented in research. Finally, the programs are distinguished by their ability to take the research and apply it to enhance patient care procedures.
The next speaker was Sterling Johnson, PhD, professor of medicine in the UW Division of Geriatrics and Gerontology. Dr. Johnson is principal investigator of the Wisconsin Registry for Alzheimer's Prevention (WRAP), a longitudinal study that includes more than 1,500 individuals, many with a family history of Alzheimer's disease. In addition to talking about his work with WRAP, Dr. Johnson mentioned many breakthroughs in early detection and prevention. He said the goal of the research is to identify Alzheimer's disease before symptoms start to present themselves. Moreover, he indicated that the program is one step closer to that goal with amyloid and tau imaging. Scientifically, he stated that amyloid plaques form and aggregate together in the brain during Alzheimer's disease. Also, recent findings about neurofibrillary tangles formed from tau proteins contribute more understanding about the disease. He talked about the steps that occur in a person's brain leading up to the onset of dementia. First, he said it starts with amyloid buildup in the brain, and it proceeds with tau proteins. Ultimately, the aggregation of these chemicals in the brain leads to a loss of nerve cells and cognitive changes. The point at which the cognitive changes interfere with an individual's daily life marks the onset of dementia. Another emerging breakthrough Dr. Sterling Johnson mentioned was the progress the scientific community is making on blood tests for detecting Alzheimer's disease before it begins. He said this could be an option in the near future, which would be an exciting alternative to brain imaging and spinal fluid tests. Overall and most importantly, Dr. Johnson wanted to get across the point that Alzheimer's disease begins many years before its physical symptoms.
The next speaker was Cynthia Carlsson, MD, MS, who talked about the impact of underlying factors on Alzheimer's disease. Dr. Carlsson is a professor of medicine in the UW's Division of Geriatrics and Gerontology, the director of the WAI, and a geriatrician who treats Veteran's with memory issues at the William S. Middleton Memorial Veterans Hospital. She focused on two categories of underlying factors that can increase the onset of Alzheimer's disease, namely non-preventable factors and preventable factors. There were four non-preventable risk factors that Dr. Carlsson mentioned: age, family history, genetic risk factor Apolipoprotein E (APOE) and Down Syndrome. On the other hand, she noted that some underlying conditions and factors that increase the risk of Alzheimer's disease can be prevented or modified. Those are things such as high blood pressure, diabetes mellitus, obesity, poor sleep and depression, to name a few. She said the main public health mission for the WAI is providing outreach, education and service to diverse communities across Wisconsin to improve brain health. 
That mission posed a perfect segue for final speaker of the evening, Carey Gleason, PhD. Dr. Gleason is an associate professor of medicine in the UW Division of Geriatrics and Gerontology and co-leader of the Wisconsin ADRC's Inclusion of Underrepresented Groups Core. She studies how Alzheimer's disease affects different races and ethnicities disproportionately. A theme throughout her time speaking during the livestream was Alzheimer's disease's impact within the African American and Native American communities. She mentioned how these disparities are a matter of justice for those who are at higher risk for the disease. With this in mind, she said those who carry a heavy burden of the disease should benefit from treatment just as much as any other ethnicity. In addition to recruiting individuals in underrepresented groups for research in Alzheimer's disease, she talked about a few things her program is doing during COVID-19. Namely, she said they want to make sure all of the underrepresented participants are welcomed by doing community-based recruitment.
After the presentations, all the speakers joined a panel and took questions from individuals who were watching the event live.
Watch the archived video of "Wisconsin Medicine Livestream: Ending Alzheimer's"
Story by Mitchell Mocadlo