Image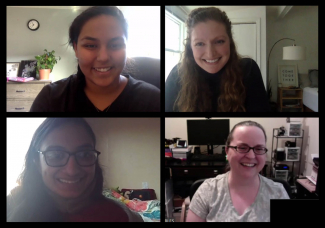 The Wisconsin Alzheimer's Disease Research Center hosted its annual Alzheimer's Disease & Related Disorders Research Day March 17-18, 2021. Day 1 of the virtual event featured talks from local and international Alzheimer's disease researchers as well as a scientific poster session. Day 2 focused on career and science development.
The research day poster session included more than 40 poster presentations. Posters were judged by a group of faculty researchers. The following is a list of poster abstract award winners:
Best Undergraduate Student Poster: Deepali Bhalla, "Quantitative R1 in the Locus Coeruleus in Alzheimer's Disease Dementia"
Best Graduate Student or Research Specialist Poster: Karly Cody, "Associations of CSF amyloid, tau, and neurodegeneration biomarkers with longitudinal cognition in preclinical AD"
Best Fellow, Post Doc, or Research Scientist Poster: Yuetiva Robles, "Alzheimer's disease polygenic risk score associated with cerebrospinal fluid biomarkers even excluding APOE genotype"
Fan Favorite Award: Saniya Khullar, "A computational pipeline of multi-omics data analysis predicting disease risk variants and gene regulatory mechanisms for the progression of Alzheimer's disease"
Photo caption: 2020 Alzheimer's Disease & Related Disorders Research Day poster session winners are shown in this composite photo. From top left, clockwise: Deepali Bhalla, Karly Cody, Yuetiva Robles, and Saniya Khullar.