Image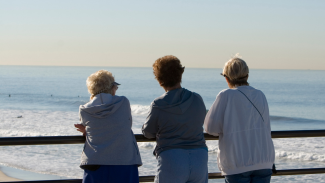 A new study conducted by Tobey Betthauser, PhD, and scientists at Harvard Medical School found associations between age at menopause, the timing of hormone therapy (HT) and tau protein deposition, which may suggest that earlier age at menopause and the late initiation of HT after menopause begins are important sex-specific risk factors. 
Researchers analyzed PET scans from 292 cognitively unimpaired older adults, 193 females and 99 males. It found that females exhibited higher tau compared with males of the same age, and that females who began menopause at an earlier age and started HT later had increased tau vulnerability compared to those who began menopause later and did not use HT. These observational findings suggest that these subgroups of female individuals may be at higher risk for tau burden.
"Association of Age at Menopause and Hormone Therapy Use With Tau and β-Amyloid Positron Emission Tomography" was published online by JAMA Neurology on April 3, 2023.
Resources
Updated May 15, 2023.