Image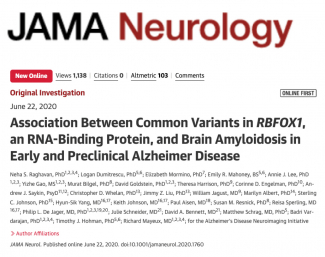 Scientists discovered a new gene associated with Alzheimer's disease that is involved with the development of amyloid plaques in the brain. In a study by the Columbia University Irving Medical Center and published in JAMA Neurology, researchers concluded that reduced expression of the gene RBFOX1 correlated with higher levels of amyloid in the brain and decreased thinking skills in participants. 
The research team, which included Wisconsin ADRC investigators Sterling Johnson, PhD, and Corinne Engelman, MSPH, PhD, examined the genomes of over 4,300 participants and compared their PET (positron emission tomography) imaging information to uncover the link between increased amyloid proteins and the gene RBFOX1. The genetic and PET scan data was acquired from six multicenter cohort studies, including the Wisconsin Registry for Alzheimer's Prevention (WRAP) and the Alzheimer's Disease Neuroimaging Initiative (ADNI), which is a longitudinal multi-center study with 63 contributing sites, including Wisconsin Alzheimer's Disease Research Center (ADRC).  
"Genetic studies like this one are so needed and are only possible when researchers share their datasets—we are grateful to have contributed to this important discovery about the RBFOX1 gene," said Johnson, associate director of the Wisconsin ADRC and principal investigator for WRAP. "In the future we hope to take a closer look at the clinical meaningfulness of this gene with regard to amyloid and risk for Alzheimer's disease symptoms."
This research presents a critical finding, as for years scientists have pursued a cause of increased amyloid plaques in the brain. Previous research found that amyloid accumulates in the brain years before symptoms of dementia occur — highlighting the need to learn more about how and why these amyloid proteins accumulate. 
While genetic connections between the APOE4 gene and amyloid have been known for years, a further understanding of RBFOX1 could lead to ways of mitigating amyloid accumulation in patients before they develop Alzheimer's disease symptoms. To learn more, you can read the news release from the American Association for the Advancement of Science. 
The University of Wisconsin–Madison has over 60 participants registered in ADNI, which began in 2004 and has more than 1,000 participants globally. The study aims to detect Alzheimer's disease at the earliest possible stage. It supports advances in the field by exchanging data between researchers around the world.
Article by Tyler Fox