Image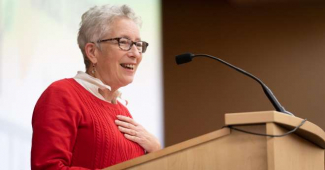 A significant hurdle in developing therapeutics and care models for Alzheimer's disease that work for people of all ethnic and racial backgrounds is the recruitment and retention of traditionally underrepresented groups in clinical trials. At the Alzheimer's Association International Conference (AAIC) 2021, in Denver and virtually, researchers shared new evidence-based insights into why people from communities of color do and do not choose to participate in clinical trials.
Dorothy Farrar Edwards, PhD, faculty director of the University of Wisconsin Collaborative Center for Health Equity and investigator and Outreach, Recruitment and Engagement Core Leader for the Wisconsin Alzheimer's Disease Research Center, presented research findings that showed people are more likely to participate in clinical trials if invited by someone of the same race.
Farrar Edwards and colleagues created the Voices Heard Survey to identify factors associated with willingness to participate in biomedical research. The survey was administered to a diverse sample of 406 Wisconsin residents, including White (n=100), African American (n=105), Latino (n=100) and American Indian (n=101) adults. The 96-item survey assessed trust in medical research and identified factors positively or negatively affecting willingness to participate in biomedical studies and clinical trials.
Factors most highly associated with willingness to volunteer for a study in the full group were (1) Invited to Participate (85%), (2) Research Goal (83%), and (3) Family Member with Disease (74%).
Significant differences were observed between the white and minority groups. Notably, African American, Latino and American Indian respondents are significantly more likely to volunteer for a research study if asked by a person of the same race, and they are more concerned than whites about disruption of work and family responsibilities, availability of transportation, and childcare.
"We identified opportunities for tailored messaging designed to increase awareness of the value of Alzheimer's research participation," Farrar Edwards said. "As we get better at recruiting diverse populations, it will increase the urgency to get the conduct of trials right."
Read the full press release, "Addressing Diversity in Alzheimer's Clinical Trials," from AAIC, published on July 29, 2021.
Read more about the UW at AAIC 2021.
Photo caption: Dorothy Farrar Edwards, PhD