Image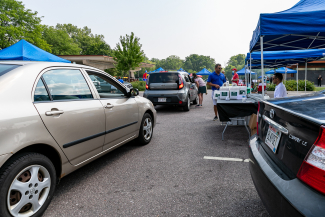 Almost 250 people attended a drive-thru resource fair in Madison's Penn Park on July 31. The event, hosted by the Wisconsin Alzheimer's Disease Research Center, featured over 15 organizations with info on healthy aging, a free COVID-19 vaccination clinic partnership with Montee Ball, and free catered meals from Chef Yusuf Bin-Rella and TradeRoots Culinary Collective. The event was sponsored by UW Health with an aim to improve vaccination rates in Dane County for African Americans. Vaccines were made available for free and anyone 18 years old or older was offered a Moderna two-shot vaccination or a single-shot Johnson & Johnson vaccine.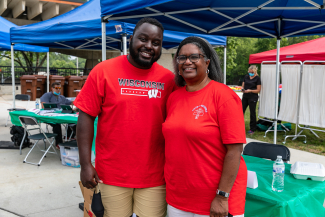 Attendees had the opportunity to meet Montee Ball, former Wisconsin Badger and NFL running back, and ask about his experience receiving the vaccine.
"I talk a lot about our Black and Brown communities, how we don't really trust health care officials, physicians, providers, et cetera because of past experiments, all of the above," Ball said to NBC 15. "But I tell folks that this is not the one. This is not the one that they're trying to fool us on. We need this."
Dr. Sheryl Henderson, an infectious disease specialist at UW Health, was available at the event for questions about vaccination.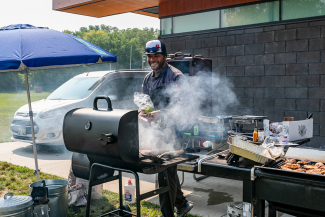 The first 50 attendees also received a copy of Montee Ball's book, Nowhere to Run, which details his experience overcoming alcoholism, anxiety and depression. Ball advocates for recovery organizations and aims to tear down the stigma that surrounds substance abuse disorder. 
Other attending organizations included Women in Focus, Madison Public Library, Venus Inspires, African American Opioid Coalition, Safe Communities, 100 Black Men, Capital City Hues, and Quartz.
In the News
"Former Badger Montee Ball co-hosts vaccine clinic to encourage people of color to get vaccinated" aired on WKOW on July 31, 2021.
"Former Badgers star Montee Ball encourages COVID vaccines at clinic" aired on WMTV on July 31, 2021.
"Wisconsin Badgers great Montee Ball to host COVID vaccine clinic in Madison" aired on Channel 3000/New 3 Now on July 28, 2021.