Image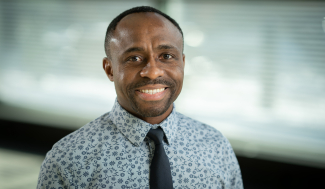 Wisconsin is one of five new international sites studying SuperAgers, or people over the age of 80 who have superior memory capacity. Ozioma Okonkwo, PhD, an investigator in the Wisconsin Alzheimer's Disease Research Center and an internationally renowned expert on risk and resilience factors for Alzheimer's disease, is the principal investigator of the Wisconsin site of "Study to Uncover Pathways to Exceptional Cognitive Resilience in Aging (SuperAging)." He received a grant from the National Institute on Aging (NIA) to support this work.
"I am thrilled to bring the SuperAging study to Wisconsin," Okonkwo said. "Understanding the factors that enable SuperAgers to remain cognitively sharp has the potential to provide researchers with useful clues about ways to help us all maintain optimal brain health into late life."
Okonkwo and his team will eventually recruit 100 participants to join the SuperAging study.
Other sites in the new multi-center SuperAging consortium coordinated through Northwestern University are located in Michigan and Georgia, as well as southwest Ontario. 
The SuperAging consortium is led by Emily Rogalski, PhD, associate director of the Mesulam Cognitive Neurology and Alzheimer's Disease Center at Northwestern University Feinberg School of Medicine, Changiz Geula, PhD, research professor at the Mesulam Center, and Marsel Mesulam, MD, director of the Mesulam Center.
About SuperAgers
While much of today's research into Alzheimer's disease focuses on understanding why people develop dementia, researchers at Northwestern University have taken a different approach by studying people with exceptionally healthy memories and trying to understand what makes them different. Rogalski began this research more than a decade ago. 
Memory peaks in a person's 30s and 40s, with average declines occurring with each subsequent decade. SuperAgers, however, retain exceptional memory skills throughout their lives. Rogalski and her team define a SuperAger as a person over the age of 80 who has the memory skills of someone who is at least 20 years younger.
In 2018, Rogalski presented the Wisconsin ADRC Fall Lecture and shared the following findings from her research on SuperAgers:
Their brains shrink at a slower rate than the average person
They have four times more von Economo neurons than other people their age
They report more positive relationships with friends and family
Rogalski also shared a few lifestyle facts about SuperAgers. For instance, more than 80% currently exercise and 15% are still working. To illustrate that SuperAgers haven't always maintained the healthiest of habits throughout their lives, Rogalski shared that more than 70% of SuperAgers reported past tobacco use, and 80% currently drink alcohol.
Learn more
Watch Rogalski's talk "Optimizing Healthspan: Lessons from the Northwestern SuperAging Research Program" from the Wisconsin ADRC 2018 Fall Lecture.
Rogalski was a guest on the Dementia Matters podcast in November 2018. Listen to the episode "SuperAgers: Who They Are and What They Can Tell Us about Alzheimer's Disease":
This research is supported by NIA grant 1U19AG073153 -01 from the National Institutes of Health.