Image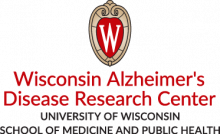 New studies start frequently at the Wisconsin ADRC, and we're looking for men and women volunteers. In order to match interested persons with future studies, the Wisconsin ADRC has created a research database—the Wisconsin ADRC Registry—to hold the names and eligibility information of potential volunteers. When new studies become available, we will use the Wisconsin ADRC Registry to identify persons who may qualify for the new opportunity.
As the future holds limitless possibilities for clinical trial developments, anyone who is interested in contributing to the advancement of memory research may join the Wisconsin ADRC Research Recruitment Registry. You do not have to be experiencing memory problems or have a memory diagnosis to join the Registry. Persons with or without memory problems, regardless of family history, may join. Also, joining the Wisconsin ADRC Registry does not commit you to participating in future studies. If you are contacted about a new study, you may decline to participate in that study and still remain in the Registry to receive information about other future studies.
To join the registry, you will be asked to complete a phone questionnaire that will review your personal and family medical history, your medication use, and if present, your current memory symptoms in detail. Wisconsin ADRC staff may contact you approximately once annually to verify that your medical history and medication information remain up-to-date.
Outreach and Recruitment Specialist