Image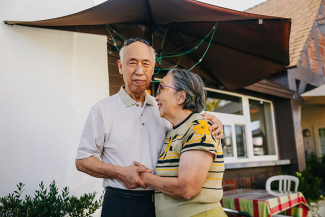 The Dementia Care Research Project is an opportunity for people with memory concerns and their caregiver to get involved in dementia care research. Dementia care research focuses on understanding how to improve the quality of life for people with memory concerns and their caregivers by examining the care they receive at home or within the healthcare system.
Study commitment and compensation
Participants will complete 30- to 60-minute phone visits with our team each year.
All participants will be compensated $50 for the initial phone visit, and $25 per yearly visit (up to five yearly visits).
Additionally, we will contact you about new research studies you may be eligible for. Many of these studies provide payments for participants.
Participation Eligibility
People with memory concerns, Alzheimer's disease or other dementia and their caregivers are eligible to join this research study together.
Caregivers must be 18 years or older and have regular contact with the people they are providing care for.
All participants must be English speaking and have a working telephone.
The person being cared for can live at a different address or in a care facility. Professional caregivers are not eligible.