Image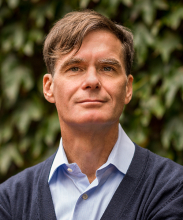 Dr. Jason Karlawish discusses society's role in addressing care for individuals with memory loss, as well as current stigmas around Alzheimer's disease, Wealthcare, and his cautious optimism for the future of Alzheimer's disease research and care. This is the final episode in our four-part series with Dr. Karlawish on his new book, "The Problem of Alzheimer's: How Science, Culture, and Politics Turned a Rare Disease Into a Crisis and What We Can Do About It." Guest: Jason Karlawish, MD, co-director, Penn Memory Center
Episode Topics:
How do you live a good life when you're slowly losing your ability to live life? 0:56
How do home and work fit in your life after a mild cognitive impairment diagnosis? 2:21
What are your recommendations on home looseness and time slips? 4:34
How can we improve care facilities? 10:04
What is Wealthcare? 11:19
Why haven't caregivers been given greater support in our system? 13:32
What do you mean by time, task and truth in caregiving? 15:13
What are steps we can take to improve the care for individuals with mild cognitive impairments? 17:34
What do you mean by stigma in Alzheimer's disease? 19:37
What worries you about the effects of this stigma? 22:00
With a new presidential administration, what should be the top priorities as a country for preparing for Alzheimer's and improving the lives of individuals with memory loss? 24:21
Learn more about Jason Karlawish's book
Find Dementia Matters online
Follow us on Facebook
Follow us on Twitter
Subscribe to this podcast through Apple Podcasts, Spotify, Podbean, or Stitcher, or wherever you get your podcasts.
SHOW NOTES
Dr. Karlawish's new book is The Problem of Alzheimer's: How Science, Culture, and Politics Turned a Rare Disease into a Crisis and What We Can Do About It. Learn more at his website.
Dr. Karlawish is co-director of the Penn Memory Center.
This is part four in a four-part series. Listen to Part 1, "The Past, Present and Future of Alzheimer's Disease Research." Listen to Part 2, "How Culture, Society and Politics Shaped Alzheimer's Disease Research." Listen to Part 3, "The Healthcare System's Role in Alzheimer's Disease."