Image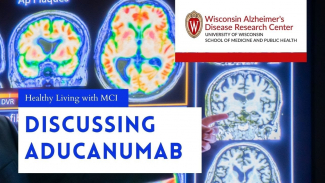 In a special segment during the recent "Healthy Living with Mild Cognitive Impairment (MCI): Nutrition in Action," Nathaniel Chin, MD, and Michelle Braun, PhD, a neuropsychologist and national leader in the field of brain health, discussed the U.S. Food and Drug Administration's recent approval of the drug aducanumab, marketed as Aduhelm, for the treatment of Alzheimer's disease. They explained how the drug works to reduce amyloid in the brain, concerns around the treatment, and next steps.
Watch the segment in the video below.
Learn more in the article "FDA Approves Aducanumab for Treatment of Alzheimer's Disease," published by the Wisconsin ADRC on June 8, 2021.
View the full video of "Healthy Living with MCI: Nutrition in Action." Healthy Living with MCI is a support and education series for patients and families. During the presentation, Dr. Braun explained science-backed, motivational strategies to boost memory through diet and nutrition as well as mindful eating and creative options for integrating healthy foods into your diet. Dr. Braun is the author of the book High-Octane Brain: 5 Science-Based Steps to Sharpen Your Memory and Reduce Your Risk of Alzheimer's.