Image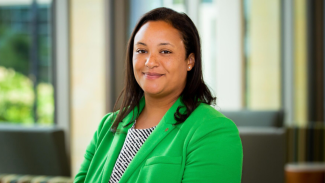 Andrea Gilmore-Bykovskyi, PhD, RN, has been announced as a recipient of the 16th annual University of Wisconsin's Outstanding Women of Color awards.
The annual awards acknowledge and honor women of color among UW–Madison's faculty, staff, students (undergraduate or post-baccalaureate) and in the greater Madison community whose advocacy, activism, or scholarship has fostered social justice and organizational change, who have created positive transformation within their institutions and/or the community and whose efforts are improving the climate for people of color.
Dr. Gilmore-Bykovskyi is an associate professor in the BerbeeWalsh Department of Emergency Medicine at the University of Wisconsin School of Medicine and Public Health (SMPH), where she also serves as associate vice chair for research. She also serves as deputy director of the University of Wisconsin-Madison Center for Health Disparities Research (CHDR) and informatics lead for the Wisconsin Alzheimer's Disease Research Center (ADRC) Care Research Core. Dr.  Gilmore-Bykovskyi directs an interdisciplinary research program focused on promoting effective, equitable care and research for those living with and at risk for Alzheimer's disease and related dementias. Specifically, her health services research laboratory investigates care, utilization and research disparities among diverse populations.
A reception will be held on March 7, 2024, from 5 to 7 p.m. in Varsity Hall at Union South to celebrate and honor the recipients.
Watch the Outstanding Women of Color announcement on the Diversity Forum website.
Learn more about the UW–Madison Outstanding Women of Color Awards and Reception on the University of Wisconsin's Diversity, Equity & Inclusion website.