Image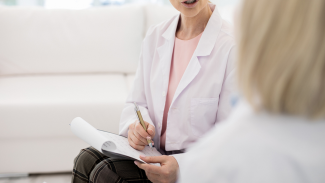 In a newly published article, researchers, including Nathaniel Chin, MD, medical director for the Wisconsin Alzheimer's Disease Research Center and the Wisconsin Registry for Alzheimer's Prevention (WRAP), created a guide for clinicians to help remove barriers to early detection and diagnosis of cognitive impairments such as mild cognitive impairment (MCI), Alzheimer's disease, and related dementias. 
The publication, "The physician's Alzheimer's disease management guide: Early detection and diagnosis of cognitive impairment, Alzheimer's disease and related dementia," focuses on understanding and addressing challenges that healthcare professionals and primary care clinicians face, removing barriers to cognitive assessments, educating professionals on the importance of brain health, early detection and diagnosis for older adult patients, and providing tools to translate this information into defined care planning.
Read the full article on the AIMS Press website.