Image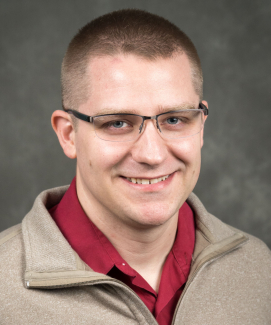 Tobey Betthauser, PhD, joined the UW Department of Geriatrics and Gerontology as assistant professor on September 1, 2020. This coincides with Betthauser's appointment as investigator with the Wisconsin Alzheimer's Disease Research Center.
Betthauser's doctoral studies began in 2013 in UW–Madison's Department of Medical Physics. In 2018, he began working in the Wisconsin ADRC as a postdoctoral fellow in the Johnson Lab and was subsequently promoted to scientist in October 2019. 
A leading figure investigating amyloid and tau biomarker imaging using PET radiotracers, Betthauser recently presented two posters at the 2020 Alzheimer's Association International Conference: "MK-6240 imaging features, cognitive associations in preclinical Alzheimer's disease and a case with imaging-to-postmortem correlates," and "Chronicity of amyloid: Methods for estimating amyloid onset and clinical research applications." 
In 2019, Betthauser was awarded a 3-year Research Fellowship from the Alzheimer's Association for his project "AD Biomarker and Risk Characterization in Cognitively Unimpaired Middle-Age." 
In Betthauser's new position, he will continue his research in Alzheimer's disease and brain imaging at the Wisconsin ADRC, as well as his work associated with his Alzheimer's Association Research Fellowship. 
Listen: In this episode of Dementia Matters, Betthauser explains how amyloid PET scans have helped scientists better understand the early brain changes associated with Alzheimer's disease.