Image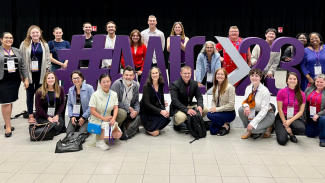 More than 50 students and faculty from the University of Wisconsin–Madison participated and presented at the 2023 Alzheimer's Association International Conference (AAIC) in Amsterdam, Netherlands. The hybrid event, which happened from July 16–20, 2023, is the world's largest forum for dementia research, hosting over 7,000 in-person attendees. 
Students and faculty from UW–Madison participated in a variety of ways, including as scientific reviewers, session moderators, oral presenters, and poster presenters, as well as learners. The majority of presenters were associated with the Wisconsin Alzheimer's Disease Research Center (ADRC) and Wisconsin Alzheimer's Institute (WAI).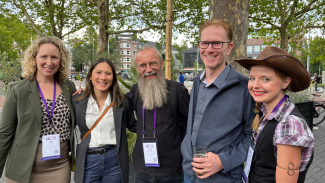 Four researchers were selected to give oral presentations during the conference, including:
UW experts also presented on a wide range of research, including: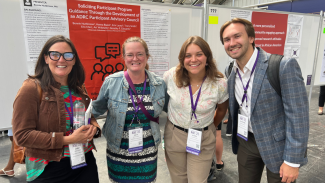 A study looking at the impact of community-based memory screenings as an approach to remove barriers for Alzheimer's disease diagnosis and care, which found that partnering with community organizations to provide cognitive screenings helped facilitate evaluations and dementia diagnoses
A study looking at how representative the Wisconsin ADRC's Clinical Core registry is compared to the Wisconsin state population
A study examining associations between preclinical Alzheimer's disease and gut microbial metagenomic profiles
A study looking at how depression impacts the association between age and amyloid burden in an at-risk group
A study looking at associations between physical activity and cerebrospinal fluid biomarkers for neurodegeneration, neuroinflammation, and Alzheimer's disease
See a full list of presentations from UW-Madison researchers here.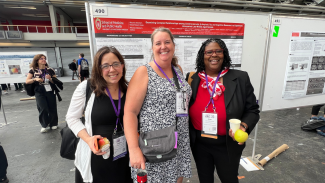 Conference Highlights
Researchers from around the world gathered to present the latest advancements in Alzheimer's disease research.
Results from donanemab Phase 3 clinical trials
Final results from the Phase 3 clinical trial of donanemab showed that the treatment significantly slowed cognitive and functional decline. The study, called TRAILBLAZER-ALZ 2, found that the decline slowed by roughly 35% for individuals with mild cognitive impairment (MCI) or early dementia.
Nathaniel Chin, MD, co-wrote an editorial for the Journal of the American Medical Association (JAMA) on donanemab and the new era of Alzheimer's disease therapies following the phase 3 results.
In the editorial, Chin and geriatricians Eric Widera, MD, and Sharon Brangman, MD, said, "The modest benefits would likely not be questioned by patients, clinicians, or payers if amyloid antibodies were low risk, inexpensive, and simple to administer. However, they are none of these."
A finger prick blood test shows promise in the ability to detect Alzheimer's disease. Blood tests are already being implemented in some clinical trials for further verification of their effectiveness and for screening potential participants. In some cases, these blood tests are providing similar information to "gold standard" testing, like brain imaging scans and cerebrospinal fluid analysis (lumbar puncture). The development of finger prick blood testing, which requires less blood collection and can be more affordable, has significant implications for the scalability of blood diagnosis of Alzheimer's disease.  
A first-of-its kind study found that older adults in the eastern and southeastern United States have the highest rates of Alzheimer's disease in the country. Examining over 3000 counties across the 50 U.S. states, researchers hope that these estimates could help public health officials develop new, region-specific strategies for caring for people with Alzheimer's disease.
The Alzheimer's Association International Conference was held in-person in Amsterdam, Netherlands, and online from July 16-20, 2023. Information on the conference can be found on the AAIC website.
Photos taken by Sheryl Spensley and Bonnie Nuttkinson