Image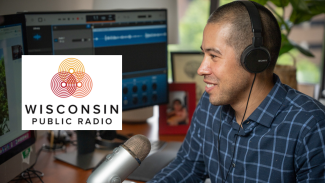 Nathaniel Chin, MD, joined Wisconsin Public Radio (WPR) to discuss the Alzheimer's disease treatment lecanemab and the state of dementia care.
Chin joined WPR's Central Time following the U.S. Food and Drug Administration's (FDA)  approval of Leqembi (lecanemab-Irmb) on July 6, 2023, making it the first amyloid beta-directed antibody to receive full FDA approval for the treatment of Alzheimer's disease. Chatting with host Rob Ferrett, Chin explained how the treatment works and what infrastructure is needed in healthcare to support the treatment process. He also discussed the research being done at the Wisconsin Registry for Alzheimer's Prevention (WRAP) and answered questions from listeners.
Soon after, Chin was on WPR's The Morning Show to discuss how dementia care can be improved. Speaking with host Kate Archer Kent and guest Eloy van Hal, founder of the world's first dementia village located in the Netherlands, he discussed whether the United States is prepared for the predicted increase in dementia cases, how a dementia village operates, and how features of the Dutch dementia village could be translated to the American caregiving system.
"Promising new FDA-approved Alzheimer's drug" was published online by WPR's Central Time on July 12, 2023. "How can society improve care for growing number of dementia patients?" was published online by WPR's The Morning Show on July 20, 2023.