Image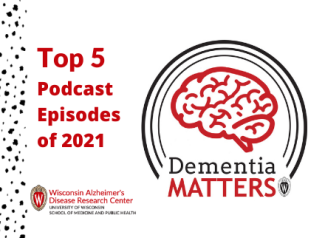 Dementia Matters is a podcast about Alzheimer's disease, hosted by UW Health geriatrician and memory care specialist Nathaniel Chin, MD. Listeners learn about research advances, caregiver strategies and prevention tips from local and national dementia experts.
In 2021, Dementia Matters released 25 episodes on topics ranging from diet and brain health to the power of imagination in dementia care. Based on listener downloads, below is a list of the five most popular Dementia Matters episodes of 2021.*
Listen to episodes through our website, or wherever you get your podcasts. Subscribe to Dementia Matters through Apple Podcasts, Spotify, Podbean, Stitcher, or Google Play Music.
*December 1, 2020 – November 30, 2021